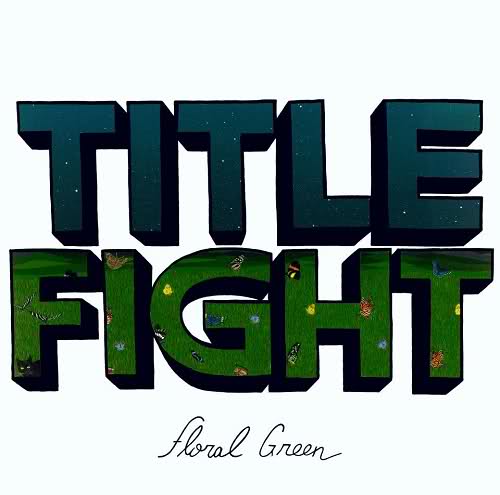 Northeast PA natives Title Fight released their third LP in September, and let me tell you- it is tight.
With a name like Floral Green, you'd think of springtime, right? Well, close. Beautiful new things are blossoming for these guys. But despite the springtime-esque name, they're turning over a new leaf (seriously- that's one of the track names.)
Title Fight was formed in 2003 in good ol' Kingston, PA, just outside of Wilkes-Barre. guitarist/vocalist Jamie Rhoden teamed up with guitarist/vocalist Ned Russin and his twin brother, drummer Ben. A couple years later, guitarist Shane Moran was added into the mix. The band has a melodic post-hardcore vibe, influenced by groups such as Jawbreaker and Lifetime.
Let's start off with the sound of this album. Anyone who's listened to Title Fight before can tell it's them right off the bat with their wailing riffs, not to mention Jamie Rhoden and Ned Russin's distinctive vocals. Floral Green has a more mature sound than their previous full-lengths, The Last Thing You Forget and Shed, but it's still undoubtedly their own. Recorded in nearby Conshohocken with producer Will Yip at Studio 4, the TF guys excited about the album to say the least. Jamie believes it to be better than Shed, and Ned adds that Floral Green is the most collaborative writing process they've ever gone through and actually feels more Title Fight than their previous records.
Lyrically, Floral Green is largely about mature angst and the loneliness that can come with growing older, trying to keep oneself together when relationships (not just the romantic type) are falling apart. The lyrics in "Leaf" allude to this feeling, I feel scared of knowing/ I'm just a single leaf in the wind blowing. "Like a Ritual" is another notable track as it perfectly exemplifies that Title Fight sound we all know and love. Seriously, the riff makes me melt. "Head in the Ceiling Fan" provides a nice break in the middle of the album, winding you down for a few minutes. Being a northeast PA native myself, this track makes me think of summers in the Poconos and laying in bed at 2PM, it being too humid to get up.
Floral Green was released on September 18th and charted at #69 on the Billboard Top 200, so it's pretty obvious this record is damn good. And to boot, the guys in Title Fight have been getting coverage from places such as Alternative Press and BBC Radio, and were tacked onto Ride Against's tour earlier this year. Their fan base in the past year has exploded, yet Title Fight stays true to their roots. Floral Green is one of the most solid releases of 2012 by far, and Title Fight shows no signs of slowing down. Catch them November 30th at Union Transfer on their Fall tour with Pianos Become the Teeth, Single Mothers, and Tigers Jaw.