More than just consuming food, I love experiencing it. I like to enjoy delicious treats with a backstory or an accompanying atmosphere. When I am craving two of my favorite sugary indulgences, ice cream and soda, I like to "experience" them at the The Franklin Fountain, a quaint ice cream shop and soda fountain located in old city Philadelphia, that I had the pleasure of visiting on several occasions. Unlike the Baskin Robbins, Dairy Queens, and Coldstones of today, they expertly refreshed the concepts of ice cream and soda into the full experiences they used to be. The Franklin Fountain offers modern tourists and local consumers the chance to escape into their sweet world of delicious, ice-cold confections as they were back in the 1900's.
Eric Berley, confectionary connoisseur and co-owner of The Franklin Fountain, was kind enough to spend an afternoon sharing with me his insight into his endeavors into and knowledge of confections and detailing the ins and outs of The Franklin Fountain. We spoke of the shop's history, charm, and appeal to modern consumers.
"The Franklin Fountain was started as an idea to serve a need in the community," said Berley. He explained that as a tour guide for Christ Church (which is just across the street from The Franklin Fountain) he found that many visitors were looking for a place to buy good homemade ice cream. When his family purchased the building just across the street from Christ Church, Eric's brother and business partner, Ryan Berley, originally proposed the idea of an antique shop. But, as the market for antiques declined, Eric's background in tourism influenced them to create a unique ice cream experience for tourists and locals alike. "There was an 18-month restoration from being a falling-apart porno shop called Eroticakes to a family friendly safe environment called Franklin Fountain." Since opening its doors in September of 2004, the shop has been expanding its ice cream horizons while maintaining a close connection to the city, history, and local farmers.
"To put it in a nutshell, The Franklin Fountain is a bit of a time machine for folks that are looking for a golden past. That era is a layered history of anywhere from the 1890's through the 1930's, before World War II." Berley continued, "At that time, Philly was the center of ice cream and all things confectionary because of our proximity to the river where the sugar and the cocoa was coming into port." In creating The Franklin Fountain, the Berley brothers wanted to pull inspiration from both the city's history in ice cream and the fact that the store was located in the old stomping grounds of the city's most prominent historical figure, Benjamin Franklin. With Franklin-themed items, like "The Franklin Mint" and "The Lightning Rod", and walls covered in quotes from Poor Richard's Almanac, "the goal was to provide customers a step back in time to an era that was actually from the 18th century through the eyes of an early 20th century soda jerk experience." They have done just that.
Berley went on to explain that "the access to good local dairy was unique to this region. The people that were farming this area knew how to develop the industry. Raw goods were available more or less right at our back door and several, local machine companies were making ice cream equipment." Ice cream shops could be found all over the eastern Pennsylvania region. Today, The Franklin Fountain sources its dairy and most of its produce from these same rich farmlands of surrounding areas to provide fresh ingredients for its many flavors of ice cream that are handmade just two storefronts down from the fountain.
Berley noted that back in the early 1900's, "Philadelphia was an immigration port, kind of like the Ellis Island 100 years before Ellis Island." This infused the population of the city with a wide variety of cultures, who each had their own variety of what we know as ice cream in America today. The Franklin Fountain likes to satisfy visitors of many different origins, national and international. The very first year they began with vanilla and learning basic techniques in scooping. Eventually, they progressed to Berley hand making and scooping a few flavors on a daily basis. Now, they have over 30 handmade, scrumptious flavors on the menu every day, scooped by a courteous, friendly staff. Every month, they bring out two or three new flavors and keep the most popular.
"As a soda fountain, we also hand make all of our sodas to order for customers.  That means a root beer syrup will be added to a glass and then the seltzer will be added to that and then mixed," said Berley. Their menu offers a wide range of Phosphates, a beverage in which phosphoric acid is used to create a tangy taste, and sodas by the glass. Combining the many flavors and ingredients available at The Franklin Fountain allows for real customization, a true idea of the past.
The stores most famous menu items, however, are their sundaes. Three of their sundaes, including, a sundae as impressively grandiose as its name, The "Mount Vesuvius," were even featured on Man Vs. Food. Berley described the "Mt. Vesuvius" as follows (Warning: This may cause drooling!):
"A mountain of vanilla or chocolate ice cream with boulders of fudgy brownie deliciousness covered in hot fudge lava dusted in malt powder ash and topped off with a cloudy eruption of whipped cream."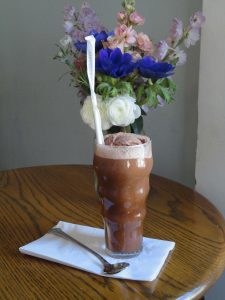 During my visit, I shied away from the challenge of a "Mt. Vesuvius" but I was able to try an ice cream soda handmade and co-designed by Berley himself. After a few substitutions, I landed on a raspberry, ginger soda with a scoop of plain chocolate ice cream, a not-so-daring combination of delicious flavors that fit my food personality perfectly. The combination of raspberry and ginger made the soda come alive with a richness and intensity unfamiliar to my usual expectations of the taste of soda. When paired with a heaping scooping of The Franklin Fountain's chocolate ice cream, it became a whole new explosion of sweetness whose flavors melted together to form a new flavor that encompassed my favorite dessert tastes into one.
In talking to Berley, he impressed upon me the importance of the lost appreciation of flavors. In the early 1900's, ice cream was all about unique flavors. Modern ice cream tends to be filled with cookies, candy, and chunks of sugary things that give the consumer something to really bite into and ramp up the sweetness. At The Franklin Fountain, they "try to pull back from that a little bit and say that flavor is more important than sweetness. Flavor can sometimes be a foreign flavor that people just need to be reminded about, like teaberry gum and our wintergreen ice cream. That's a pink ice cream that people may have remembered as a flavor or a gum. But, sometimes you forget where it all came from. That was a bush that still grows in the natural world. These extracts are taken from bushes out in central Pennsylvania." They also work hard in making old favorites, like Rum Raisin, really well, choosing the best ingredients to combine and form a richer version of the usual standard. "I think what we are trying to do in selling nostalgia is bridging this gap between what is familiar and what is foreign and really what tastes good."
Beyond the taste of the products, the Berley brothers also understand the importance of paying attention to all of the remaining details of their customers' experiences. Berley said, "The source material for us has always been photographs of early, turn-of-the-century soda fountains: the outfits that people would wear, how the soda fountains were set up, what would have been advertised, how they would have done the signage, and what they would have had on their counters. Postcards, too, are a great window into what those places looked like. The creativity then makes us really look dull in the modern age." The store is filled with intricate tile work on the floor, various signature antique pieces, including the soda fountain/lampshade from 1905, and happy workers clad in bowties, white hats and the standard, white, collared oxford shirt. The Franklin Fountain is a full ice cream and soda experience in a time period far from what we know today. It's more like a destination: "Being a destination store is so much fun because you are getting people onto a ride that they'll never forget."
If the soda fountain experience is just not enough, The Berley Brothers also own and operate Shane's Candies, another sugary retreat just two doors down. Shane's Candies is America's oldest continuous confectionary. A wide variety of candy has been lovingly produced and sold at Shane's since 1863. Today, they still maintain an early 1900s aesthetic, elegantly displaying a selection of chocolates, gummy candy, hard candy, and their personal specialty, the clear toy candy. The brothers split their time equally between both stores. As the candy season slows down in the summer, the focus shifts back to ice cream and soda.
Coming up this summer, The Franklin Fountain will be releasing lots of new flavors of ice cream and inspiring liquid concoctions. Look out for organic blueberry ice cream honeycomb ice cream, strawberry, chocolate cream phosphates, and many more. If you are looking to learn a little more about sugar and candy in Philadelphia, head to the Independent Seaport Museum in August and check out the Berley Brother's exhibition on sugar. They will be telling the story of how sugar gets here from different parts of the world and is turned into treats for kids and adults alike, with a variety of tasty events. Meanwhile, if they are not out on the field playing vintage baseball, they will be busy creating their own candy and ice cream museum on the second floor of The Franklin Fountain and writing their first book due out next year.
If you are ever in Philadelphia, The Franklin Fountain is definitely a place that you shouldn't miss. You can find them at 116 Market Street. If not, you can catch what you are missing on their website, www.franklinfountain.com.