Me flirting: So… What do you think of Disney?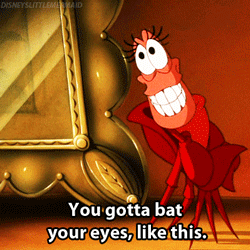 You're never too old for a good Disney movie, in my opinion. I grew up with Disney/Pixar, and I still love everything about it. The princesses, the characters, the movies, Disney World. I don't think a day will come that I don't enjoy Disney (for the most part). I know a lot of young adults feel the same, whether they're willing to admit it or not.
There are a lot of great new films coming out (Independence Day: Resurgence, KINGSMAN 2!!) but I'm here to talk about the long-awaited Incredibles sequel, among other Disney brand movies. Are you excited? You should be.
Also, in advance, these are US release dates only.
Alice Through the Looking Glass: May 27, 2016
Finding Dory: June 17, 2016
The BFG (Big Friendly Giant): July 1, 2016
Pete's Dragon: August 12, 2016
Marvel's Doctor Strange: November 4, 2016
Moana: November 23, 2016
Live-action Beauty and the Beast: March 17, 2017
Guardians of the Galaxy Vol. 2: May 5, 2017
Pirates of the Caribbean: Dead Men Tell No Tales: May 26, 2017
Cars 3: June 16, 2017
Thor: Ragnarok: November 3, 2017
Coco: November 22, 2017
Star Wars Episode VIII: December 15, 2017
Marvel's Black Panther: February 16, 2018
Gigantic: March 9, 2018
Marvel's Avengers: Infinity War Part 1: May 4, 2018
Toy Story 4: June 15, 2018
Captain Marvel: March 8, 2019
Marvel's Avengers: Infinity War Part 2: May 3, 2019
Incredibles 2: June 21, 2019
Marvel's Inhumans: July 12, 2019
Start your countdowns now, because I've waited 12 years for this (I'm looking at you, Incredibles).