Happy Autumn, Loco readers! Allow me to introduce myself…I'm new here! I'm Kenzie, a first year college student who TRULY appreciates quality snacks. If you too enjoy mid-day munchies, I am thrilled to have you here! Welcome to B-Cubed, where my goal is to find awesome products on the budget of a broke bitch…thus 3 B's What will be tackled in this edition? The best chocolate available for purchase at your local gas station.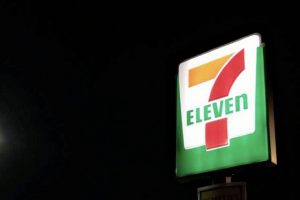 Ahhh the rich smell of chocolate….and gasoline? Sounds appetizing, right? When I journeyed to the local 7/11 at 10 PM on a Sunday night, I hardly noticed the foul stench. My nose had one objective, to sniff out the best chocolate in the land. I decided to purchase the following five bars; Dove Dark Chocolate, Hershey's Milk Chocolate, Chocolate xoxox Toffee & Almonds in Milk Chocolate, an original Toblerone bar, and a Godiva Chocolate & Crème Bar. The total damage to my wallet was a whopping $7.65, the equivalent to a one-way SEPTA ticket to Philly from the closest station. But no matter, it was time to give these suckers a try.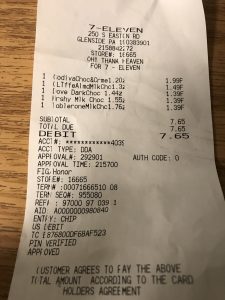 To perform a proper test, I rounded up six of my friends to blindly sample each of the five chocolate bars…because what college student could say no to free food? I instructed each of them to give the bars a letter grade based on taste, smell, and texture. The points scale was as follows:
A- 5 points
B- 4 points
C- 3 points
D- 2 points
F- 1 point
Dying to know the outcome of this experiment? After five extensive rounds, and some score calculating….here are the results!
In 1st place with 26 points was Toblerone! Swiss folks sure have perfected their chocolate recipe. My friends enjoyed this bar for its "hints of almond, quality milk chocolate taste, and moderate crunch."
2nd place was awarded to Godiva, with 25 points! According to my friends, the bar was a solid contender for its "smooth texture, delicious filling, and subtle smell."
3rd place went to Dove, with 24 points! This bar stood out for its "strong, dark chocolate flavor and smoothness."
4th place was awarded to Chocolove xoxox, which earned 19 points! This bar was dubbed "average, chalky, and semi-crunchy." Not a big hit amongst my friends.
Finally, 5th place went to Hershey's, with a measly 14 points. This classic chocolate received a low ranking because it was "too sweet, and meh," according to my comrades.
Well ladies and gentlemen, that's our show! Now you know that for $1.39 you can buy what my friends  have dubbed the best gas station chocolate there is. Keep in mind, I do not claim to be the Gordon Ramsay of snack selection. However, as an insomniac who has consumed more than her fair share of midnight treats…I like to think that I could be of some assistance. Tune in next edition for more bang for your buck product ideas! Until then, happy snacking!