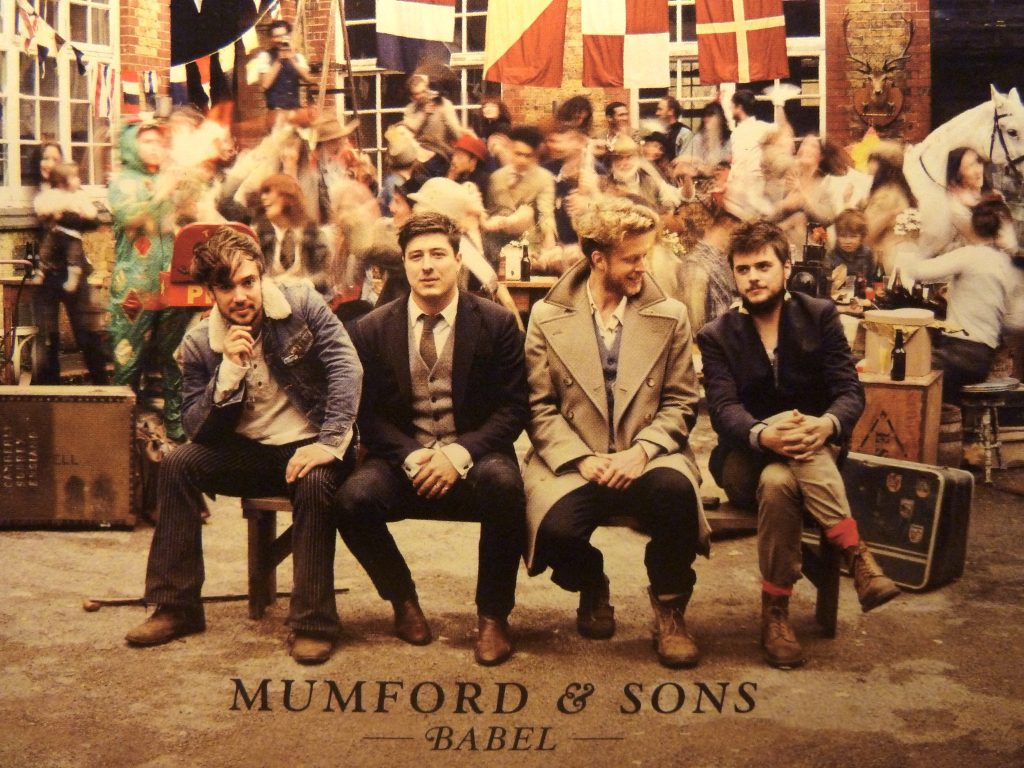 Babel, the second album from British folk band, Mumford & Sons, has been long awaited by fans, critics, and music lovers alike. After the huge commercial success of their first album, Sigh No More, people all around the world (myself included) were shouting "What's next?!" at the adorable quartet. Desperate pleas of "I need more Mumford!" circulated until we were told to shut up and be patient. At first, we thought we were going to collapse from lack of an album and spiral into Mumford & Sons depression, but patience is a virtue because the album is finally here and it does not disappoint.
On September 25th, the heavens opened and out dropped Babel. Along with it came "I Will Wait", the lead single that is every ounce as Mumford & Sons-y as a song can get. It's packed to the brim with the signature banjo, a rhythm that gets your toes tapping, and the usual harmonization that Mumford is known for. It's the perfect single- not only because it encompasses everything that is unique about this British band, but because it's an anthem to the thousands of fans who have sat around for the last three years waiting for something new.
"Ghosts that We Knew" slows things down and it becomes one of the most memorable songs off the album. It starts off broken down and almost melancholy until it gradually builds into a loud and powerful piece. The lyrics "give me hope in the darkness so I'll see the light" combined with the slow-building sound lead to chills up and down your spine. And I don't mean creepy "somebody is going to kill me chills", I mean spine-tingly perfect chills, the good ones that shout "nothing can get better than this!" every time they run up and down your back.
"Below My Feet" is a stand-out on the album. It's a great showcase of Mumford & Sons' unique ability to harmonize the crap out of anything. It's probably my favorite track due in part to the lyrics and in part to the amazing vocalization displayed by all the band members. "Below My Feet" is probably one of the most overlooked tracks but it's definitely worth a listen.
Another hidden gem is actually a bonus track on the deluxe version of the album. It's a cover of Simon and Garfunkel's classic, "The Boxer". The song is tailored made for Mumford & Son, it's absolutely breathtaking, and it even features Paul Simon himself! I never thought that anything could be better than the original, but Mumford transformed a 1960's classic into a beautiful modern folk song. If the opening chords and the perfectly harmonized chorus don't make you smile, then something is wrong with you. "The Boxer" is a stunning cover of a song that was already gorgeous to being with.
Overall, Babel is a great sophomore album. Is it as good as Sigh No More? I couldn't tell you. What I can tell you is that it was totally worth the three-year wait. Babel holds its own and features some of the best work Mumford has done to date. It's the soundtrack to your favorite memory, the background music for a perfect night out, and the album that will save your soul. Okay, that might be a little extreme but you get my point. It's one of those albums that sticks with you.
So, go on iTunes or Amazon and buy it. Then listen to it with a candle burning and you'll see your entire future (Almost Famous, anyone?) And finally, I beg you to ask the most important questions: "What's next, Mumford & Sons? How long will you keep us waiting this time?
What do you guys think? Was Babel a beautiful success or an epic failure? Talk to me about in the comments!
Photo Credit: Jordan Richards (first photo) and Markus Unger (second photo). Photos used under Creative Commons license.