Some time ago, I spent my day off wandering around the Glenside area in search of a mystical place called New Life Thrift.
When I found out about this supposed thrift store from a friend of mine, I was quite shocked that I didn't already know about it! Being the little wanderer that I am, I always make a point to map out every region of Philly that I possibly can in search of new hidden retail gems and hang out spots. It's a side effect of my wanderlust; a habit that I acquired after traveling to Tuscany as a freshman, where there were lots of charming medieval towns with dimly lit, winding corridors and small handmade shops along steep brick pathways and stucco walls.
Paris was similarly built for exploration; I can't count the amount of times I got lost but ended up finding places like Un Amour de Vintage, a basement thrift store run by a woman who spoke only French (to my dismay) and an authentic Japanese ramen house where I had a bowl of shoyu ramen and pan-fried gyoza! Ah, I can remember being there like it was yesterday … but I digress!
The weather was beautiful on the day of my Glenside adventure, so much so that when I opened Google Maps on my iPhone and saw that it was nearly 2 miles from my apartment I said, "Hell, why not!" and proceeded to walk there. I totally do not regret that decision either, because after maybe 25 minutes of non-stop walking I spotted my destination – you simply can't miss the giant green and white trucks parked outside of what appears to be a tidy warehouse.
New Life Thrift's current location has been in business for around 10 years now. It's affiliated with the local New Life Presbyterian Church nearby, whose mission is "To care for the poor (Lev 19:9-10, Deut 15:7-11), the widows and orphans (Ps 68:5), the fatherless and homeless (Ps 10:14, 17-18, Ps 146:9) the strangers and aliens (Lev 29:33-34), Eph 2:17-19)." They donate much of their time and money to outreach services and charities designed to aid the less fortunate, which I think is just one of many awesome reasons to shop there or even think about volunteering during the summer.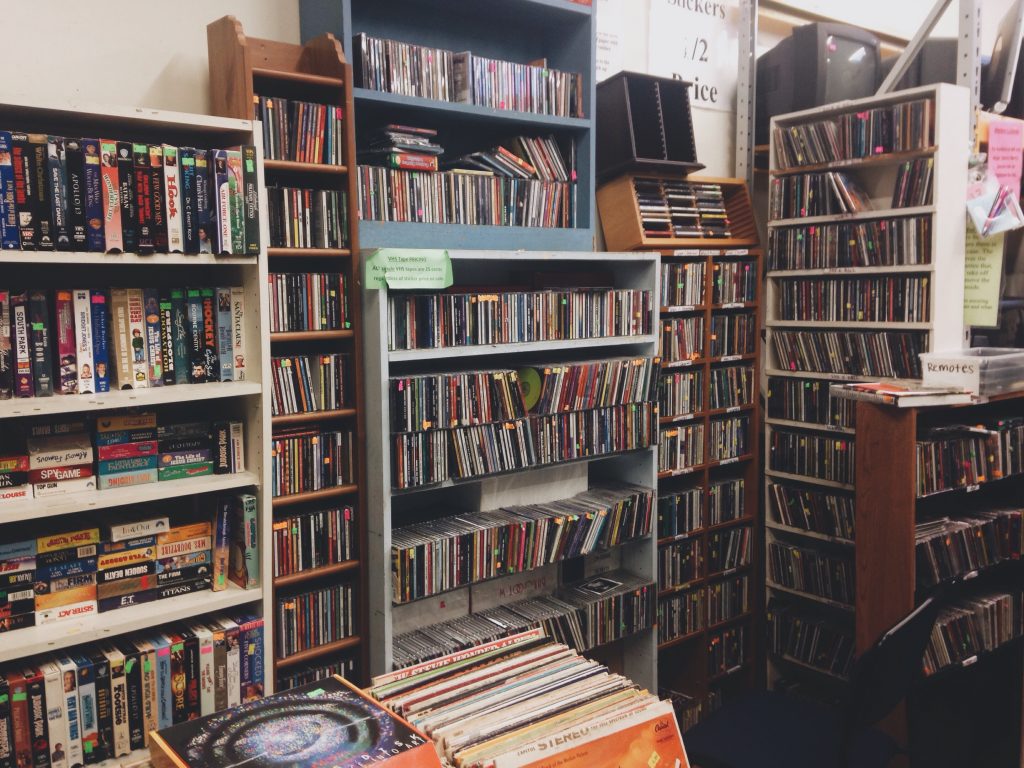 Not only does New Life sell men's and women's clothing, shoes, and accessories, but they have a large selection of houseware and furniture that is 20% off if it's bought and taken the same day. I spotted a few Arcadia students there, one of which told me to check out their records for musical soundtracks and oldies. Needless to say, they have quite a number of CD, DVD, VHS, and games available amid bins of old tech. Bibliophiles will also appreciate the little library alcove in the back, where I happened to find a pristine Frida Kahlo art book and a copy of Huxley's Brave New World for less than $5 total.
Price wise, everything here is dirt cheap. No seriously. I couldn't find anything that was over $20 unless it was furniture or something rare. You can walk in the door with $20 in your pocket and walk out with five or more things, which is exactly what I did! I ended up finding two cool mugs for $1 each, a pair of white boots for $6, and two books for $5 – talk about bargain finds, huh!
I must have spent an entire hour and a half digging around inside, perusing the CD racks and all the while thinking about just how great thrift stores are for communities, especially one like Glenside. Just looking around, I could see families buying discount clothing for their children and it made me think about how much thrift stores can lessen that burden of expense when it comes to child care. There were college students there buying cool trinkets and necessities for their dorms, men looking at old tech parts and albums from their angst-y adolescent years and women looking at decorative dishware for their china cabinets.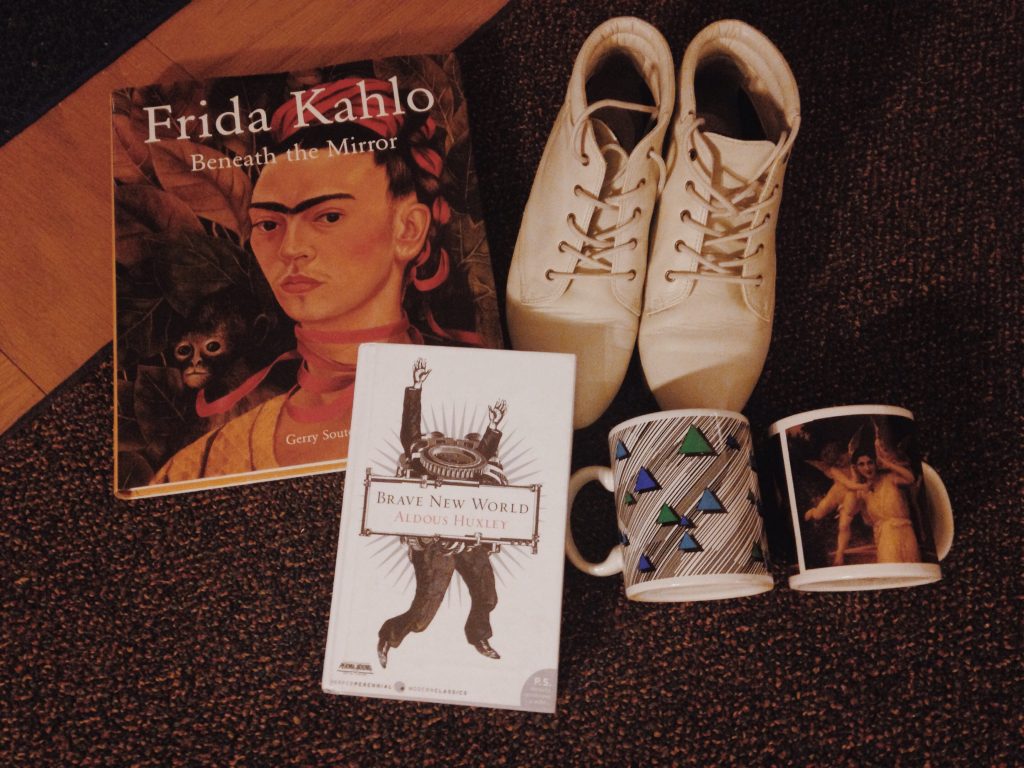 No matter where you come from, anyone can find benefits to thrifting and can drastically cut costs while still being able to find things you'll like and get much use out of for a long time. Thrifting is great for the environment and a way that you can stop yourself from paying for fast fashion that is oftentimes poor quality and disposable. Aaaaaaand, think about the people you'll be helping with your money and time if you choose to shop, donate, and volunteer?
Being an ethical consumer is always at the top of my mind, and thrifting is an easy way to accomplish that. Check out New Life Thrift on 800 Easton Road in Glenside when you get the chance, as they're getting in new things for the spring season! If you're in Philly, it's quite easy to travel to: simply take the Lansdale/Doylestown line to Glenside and walk about 15 minutes up the road past Keswick. Arcadia University students can take the 22 bus towards Willow Grove mall.
Better still, bring a group of friends and have a thrifting party! Pack your car with things you want to donate and make sure to leave plenty of room for anything you might happen to find and fall in love with – it's bound to happen when you visit this charming warehouse of thrifty objects!
—————————————
This post originally appeared on my style blog Alixe in Wonderland. Check it out for more Philly-centric style posts and skincare tips.