Every year, right as spring is creeping up on us, Philadelphia brings an early preview to that season we all know and love. This year, I trekked to the Philadelphia Flower Show with thoughts of warm weather and a spot of tea. The flower show sounds like a huge bummer at first. Flowers? Floral arrangements? Vendors, gift shops, and speakers? Sounds like something my grandma would go to. Well, fear not! The show is most definitely for children of all ages to young adults to older adults. Believe me, I enjoyed the heck out of it. It's located in the Philadelphia Convention Center, and is an annual event that you should definitely remind yourself to make room in your schedule for next year. Themed, and ready to thrill, this year's show was Brilliant! Well, actually, the theme this year really was "Brilliant!" and, with all things Britain being the theme, it was sure to be a crowd pleaser.
 First off, if you're a student, there is extra incentive to go because you get a spectacular discount– I'm talking about ten bucks off regular ticket price. That's like getting lunch for free! After purchasing your ticket, you make your way to the Philadelphia Convention Center, follow the balloons and crowds of genuinely enthusiastic folks, and the fun begins.
This year, there was a toffee stand, tons of tea, and other British delights which were all part of the "British Village". Yum. Food aside, the newest and extremely popular attraction this year round was the  "Make & Take Room". For about ten bucks (which you potentially saved because of your student discount), you can pass through the doors into a huge room filled with magic and attractive men with British accents…Okay, not really, but you do get the chance to create a little of your own magic! To go along with the British theme, this year, you could make a floral headpiece or wristlet, and, for the younger crowds, a 'magic' wand (I wonder where this idea was inspired from…). There are also many conference rooms in which wine tasting takes place, live entertainment, different speakers come in, and a kids room so that there is something for everyone to do.
Of course, we can't forget the actual show itself! Among the many exhibits, there were some simple, some obligatory pop culture references, and even some hilarious pieces. This year, the entrance piece was reminiscent of Great Britain and our fixation with their royals. The colors were grand and regal, filled with rich reds, purples, and golds. With a crown at the very top of the arch, I gazed upwards as I passed underneath only to be greeted by Big Ben as I came back down to earth. Or, at least, a tribute to Big Ben. Before me stood a clock tower stage where later performances would be held, and possibly the place where you got the most tourist-y photos taken (well, at least, I did).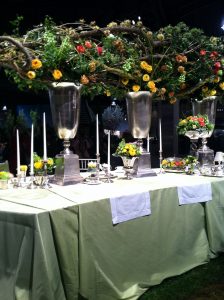 In the surrounding area were all of the individual exhibits. With each having a particular theme that was tied to the overall theme, they incorporated important aspects of Britain's history, culture, and appearance in many stunning displays. Among the many unique pieces that I saw, Sherlock, The Beatles, and Alice In Wonderland depictions were not missed! There were exhibits that showcased umbrellas and water in an attempt to pay homage to the rumored dreadful weather in Britain, and, on the other hand, there were some that I wouldn't mind having as my own secret garden. This year, I would have to say my favorite exhibit was appropriately titled "A Proper Hodgepodge". Done by Robertson's Flowers of Wyndmoor, PA, this piece was absolutely stunning. Not only in appearance, but in structure as well. The idea was that there were four separate parts that were all supposed to represent and depict iconic periods in Britain and the end result made one feel as if they were invited to a very diverse and entertaining dinner party! The depictions were reminiscent of what a dinner party may look like as Mod, medieval, royal, and even during the wartime. At one point, you were surrounded by an area filled with royal purples and golds, and the next you were in a quaint and simple area surrounded by creams and greens. Although simple in idea, they executed it successfully and with enough zeal to win them the "PHS Philadelphia Flower Show Silver Trophy".
Overall, I was super impressed with everything I saw and definitely recommend checking it out next year. You don't actually have to know anything about flowers to be there, folks. You just have to like them. (And, honestly, how could you not like them?!)