Though it may be one of America's oldest and most historic cities, Philadelphia is known by locals and the most knowledgeable of tourists for two things: good music and good food. As an aficionado of both, I like to find places where I can enjoy the perfect combination of the tastiest of grub and high quality music. In my Philadelphia adventures, I have come across a select few that live up to this perfection and come complete with ambience and friendly service. If you are looking for a nice place to unwind, hang with friends, or, in the spirit of the rapidly approaching holiday (the one and only Valentine's Day), bring a date, then look no further.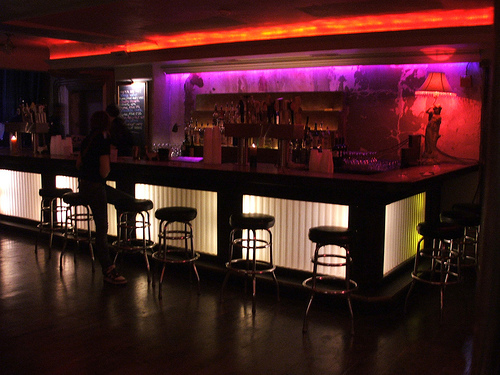 A treasure in the heart of Fishtown, a neighborhood already packed full with excellent eateries, Johnny Brenda's serves the finest in gastropub fare and indie bands from all over the globe. When it comes to size, Johnny Brenda's can be compared to when Goldilocks sat in the chair of Baby Bear: not too big and not too small, but just right. If you are looking for Philly's highest concentration of self-identified hipsters, you will find a sea of them here in button downs, beanies, and glasses so out they are in.
Serving the soups, salads, and entrees you might expect from a bar, the venue steps it up a notch with only the freshest of local ingredients put into their seemingly average dishes. They also have a collection of some of the area's finest craft brewing companies, including Yards, Philadelphia, and Stoudt's Brewing Companies. All of the menus are hand written on chalkboards and constantly changing to fit the seasonal produce.
Musical acts such as Dr. Dog, MGMT, Lykke Li, The National, Fleet Foxes, and Vampire Weekend have graced the stage in the bar which can be viewed from downstairs or an upstairs balcony, a very unusual and helpful feature for a venue of its size. The venue is booked by the ever-present R5 Productions and is sure to continue providing a solid line-up of promising acts. You must be at least 21 to enter and you should leave time to find parking on busy weekend nights! I recommend seeing San Fermin on February 17th.
In search of a cozy and heart-warming evening with equally devoted music fans and the classic homemade dishes just the way you like them except better? Then World Café Live is the place for you. Located just around the corner from 30th Street Station, it is actually two venues in one. World Café Live has a smaller upstairs café-like venue with a small stage in close proximity to guests and a downstairs venue with a full scale restaurant and massive stage that brings in bigger name artists and crowds that like to use their dancing feet.
Upstairs you'll find the best in singer songwriters and bands with small set-ups like Foy Vance, Benjamin Francis Leftwich, and The Sam Roberts Band. The café and small bar upstairs are filled with color, candlelit and make a perfectly quiet, or at least relaxing evening. A nice glass of wine or bottle of craft beer goes well with their Goat Cheese Crustini,  Roasted Artichoke Sandwich or even a classic burger and fries. Downstairs features a full-scale restaurant that changes their menu with each performance, but you won't get anything too scary or unexpected. It's a bar much bigger than it's upstairs counterpart with the same offerings and friendly service. Bands booked at the venue usually venture into a bit of country or folk with a basis in rock and often are repeats that always pass through World Café Live on tours that include Bronze Radio Return, The Milk Carton Kids, Delta Rae, and Houndmouth. World Café Live shares a building with Philly's WXPN and though the music selection often reflects the tastes of the station, the two are not technically connected by anything but name.
The key to getting a good spot at World Café Live is to not only buy a ticket online but to make a table reservation ahead of time, especially for popular shows. If not, you'll be stuck eating your grub at the bar if you are upstairs or a tiny table amongst the crowd if you are downstairs. Also, check at WXPN's Free at Noon Sessions every Friday to hear the best upcoming musicians for free! As for upcoming gigs, I recommend Kodaline with LP on 2/13 downstairs and Noah Gundersen on 3/23 upstairs.
Lastly, there is a venue that is both very old and equally new to town. Boot & Saddle is an old Philly staple brought back to live by the aforementioned R5 Productions and it has really begun to thrive. A new generation of concert goers and food lovers have begun to make the venue their new home and it's time you check out the good thing they have got going. Just below Washington Avenue on Broad Street, Boot & Saddle is a seven days a week restaurant with upscale twists on classic dishes and craft and seasonal brews that maintains its original country bar flair in the hardwood floors and tin ceiling. It was suggested to me by the lead singer, Alister Wright, of the Aussie band Cloud Control that the "brown soup with the chunks" is quite good but if that doesn't sound like it might tickle your fancy, the House Ground Turkey Burger, Cauliflower Croquettes, or the Steamed Pei Mussels are also delectable.
Closed off from the restaurant is the 150-person venue in back. Like all R5 booked venues, you can expect a mix of indie rock, electronic, punk, metal and maybe even a little country with Potty Mouth, Yacht, and Cate Le Bon already rocking the stage. It also features an excellent sound system that makes its tiny, packed shows explode with massive sound. It's a newie but a goodie and if you'd like to try it for yourself, I recommend Those Darlins and Diarrhea Planet on February 18th!
I am headed out to all three in the next few weeks and I hope to see you there, stuffing your face with tasty treats and your ears with terrific tunes. May your appetite for fantastic music and delightful food be satiated!