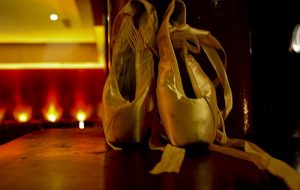 The word "free" is gold to a college student, so when I found out that I could attend a benefit hosted by the PA ballet I jumped at the chance (let's face it I'll do pretty much anything if its free). Company members are allotted tickets, and a friend of mine asked if another friend and I would like to come see her dance. I immediately accepted as a chance to get off campus and immerse myself in a night of dance that was just the remedy that my otherwise uneventful Saturday night desperately needed; it was also the perfect excuse to wear a pair of killer heels! So we got all gussied up and boarded the train into Philly that would lead us to a night of excitement and inspiration.
Upon our arrival to the Forrest Theatre we were met with a will call line that was wrapped around the building. Which was not ideal for our choice of shoes but we were also struck by the amount of anticipation and support that was shown by the amount of people that were present for this event. Before the show started the CEO of MANNA Richard Keaveny, Production Director Ian Hussey, and host Micheala Majoun from Philly's WXPN came out to tell us a little about MANNA and the purpose of this night. MANNA, Metropolitan Area Neighborhood Nutrition Alliance, is an organization that prepares and delivers meals to the doorsteps of individuals who are suffering cancer, HIV/AIDS, or other medical illnesses. On average they deliver around 70,000 meals per month and operate with the help of volunteers and organizations that donate or raise money for their cause, such as the PA ballet who became involved with MANNA twenty years ago. It is a product of the generosity and selflessness of the company members of the PA ballet who lost one of their members to HIV/AIDS. In order to cope with their tragic loss they decided to host a one night only performance in order to support others who were suffering from the same illness that their colleague was lost to. This year's show was sold out and raised $150,000 that will be used for the benefit of individuals who truly need it. The show features choreography from company members and became a tradition that they cherish and look forward to every year.
The cause is emotionally moving and highly engaging and so was the dancing. The show featured twelve original pieces that were seamless in design and passionate in execution. Most were modern but there were also some delightful surprises mixed with them. The opener paid homage to all of the promo shots that Shut Up and Dance produces each year; set to Madonna's "Vogue" the dancers paraded around the stage, some in drag, and struck hilarious poses! Another high point of the night was a special performance by the West Philadelphia Conestoga Angels Precision Marching Corps, who marched onstage out of nowhere with a full drum corp and a group of adorable kids who had an infectious amount of energy and talent. Out of tradition, the show closed with "Dying Swan" a classic piece that never ceases to amaze and captivate me no matter how many times I see it. After the show we were all invited to an after party that made for an great, although unconventional, night at the ballet.
MANNA is an amazing organization; they provide meals for individuals who without them would go hungry during medically unstable periods of their lives. I am inspired and humbled by this organization and those who support them, such as the PA ballet. When I arrived at this event I expected to be merely entertained, but I left feeling ready to jump into action and volunteer!