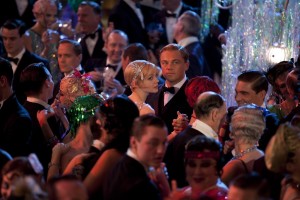 So you want to party like Gatsby? 1920s-themed parties seem to be especially popular lately with the upcoming release of The Great Gatsby movie on May 10.  It's actually really easy (and fun!) and you don't need a mansion to do it. Although that would definitely be pretty awesome, we're not all rich like Jay Gatsby himself, so I'm going to tell you how to throw a Gatsby party on a budget. All you need is some good old jazz music, vintage twenties fashion, and lots and lots of alcohol (or at least some "mocktails" for all of us under 21).
First off, figure out who you're going to invite. We all know Gatsby's parties were huge, but since I'm sure most of us don't have the space to invite a bunch of people we don't even know, decide how many people you want at most, who you definitely need to invite, and if you're going to allow people to bring friends. This may not seem too important, but if you don't make up a plan on how many people you want to come, the party might end up a lot bigger (or a lot smaller) than you want. This isn't the kind of party you should throw together last minute; you want yourself and your guests to have enough time to prepare for this extravagant event.
Then you're going to need an outfit. This is your chance to really embrace the glitzy and glamorous styles of the twenties.
For the men, a good suit and tie is probably the easiest way to go. You could wear suspenders instead if you're going for the 1920's gangster look. If you want to go all out and wear a tux, by all means go ahead and do it. You could even go for a white tux like the one we've all caught Leo wearing in The Great Gatsby movie trailer. But remember, we're trying not to spend that much money, and no one is expecting you to. You want to look rich for the night? Wear a gold tie like Gatsby did when he went to have lunch with Daisy and Nick. You should also probably wear a hat. Fedoras, top hats, boater hats, and newsboy hats were all worn back in the twenties, so it depends how fancy you want to get. You can look extra classy by carrying a cane, too.
As for the ladies— you have even more options. While some ladies choose to stick with the prim and proper dresses, the twenties were a time for change. People were becoming more free-spirited, and they showed it in their attire. Short dresses were becoming much more popular. Fringe or sparkly dresses are the perfect way to pull off the flapper-look, but pretty much any basic cocktail dress in a simple pastel color, such as peach or rosette, could work. Black, white, and gold are also safe choices. Forever 21 and Joyce Leslie have some really cheap, but gorgeous, chic dresses. I went with the Shimmering Paillette Cocktail Dress for about $30 from Forever 21. More importantly, however, you need to accessorize. Pearls are not an option, they are a necessity. Cloche hats or beaded headbands are a great touch depending on which you prefer. I got a gorgeous Sequined Floral Headwrap (also from Forever 21) for only $5.80. Some other fun iconic options are long stem cigarette holders, feathered boas, Mary Jane's or t-strap shoes, and gloves.
Once you have your outfit all picked out, you're going to need some music. What's a party without a great playlist, especially since we're in the Jazz Age! Gatsby would have had some live jazz band playing, so if you have any musically talented friends, try to get them to play. If not, buy a 1920s Greatest Hits CD or make a playlist of some of your favorite jazz, blues-ragtime, and broadway songs. Check out Fats Waller, George Gershwin, Bessie Smith, and other similar artists. And don't forget to brush up on dance moves like the shimmy, the turkey trot, the buzzard lope, the chicken scratch, and the monkey glide.
Most importantly— you need to have drinks! Stock up on as much champagne, gin, and whiskey as you can because those were the popular drinks back in the day. Since most bartenders back then used a lot of sweeteners and juices to cover the strong taste of the alcohol, you're going to need quite a few different kinds of juices and sodas to use as mixers . Let your guests mix their drinks how they prefer, or try out some fun cocktail recipes. There's the Bee's Knees (gin with a spoonful of honey and lemon juice), Southside (gin with lemon juice, mint, and sugar), Ward 8 (whiskey with half lemon juice, half orange juice, and grenadine), and French 75 (gin with lemon juice and sugar,  topped with champagne).
And don't worry if you're too young or just prefer not to drink. Gatsby himself said, "It's a great advantage not to drink among hard-drinking people." There are some great virgin cocktail recipes you could try out instead. Some recipes you could try are Montego Bay (half orange juice, half pineapple juice, sparkling water, and an optional splash of grenadine), Honey Moon (apple juice, orange juice, a splash of lemon juice, and a  tablespoon of honey), Presbyterian (ginger ale, club soda, and an optional lemon twist), or just get some sparkling cider!
You can't forget about food. At Gatsby's parties, there was a ton of food, "on buffet tables, garnished with glistening hors-d'oeuvre, spiced baked hams crowded against salads of harlequin designs and pastry pigs and turkeys bewitched to a dark gold." You obviously don't need to go all out like Gatsby did . Chips, pretzels, cheese doodles, and just your average party snacks will do. Some pigs in a blanket or cheese and crackers will suffice if you want to look a little more sophisticated. This is your party though. Pick out what you would enjoy (and can afford)!
Now that you're all ready for your party, the only thing left to do is have fun. Eat, drink, dance, and take a lot of pictures with your friends. Say things like "hotsy-totsy" and "the cats pajamas." And do NOT let anyone drink and drive! (because we all know how badly that turned out in The Great Gatsby.)
Photography credited to WarnerBros. No copyright infringement intended.