Philadelphia – Center City
If you haven't figured it out yet, part of this column's mission is to stray from the typical tourist experience. Knowing this, you might be a little confused about my choice here- Center City Philadelphia, arguably the most touristy section? But hear me out, within this sector I was able to stay away from what people tend to associate Philly with: history. Being a smaller city, I wanted to take this opportunity to introduce it to you, and myself as well. Though at university, I only live thirty minutes from Philadelphia, until now I haven't really taken the time to explore it properly. So, without further ado- hello, Philadelphia.
8:00 A.M. – My Dorm Room
Already doing significantly better on the wake-up time here in comparison to 4:30 A.M. for the New York trip. Though this is still a little early for a weekend, I don't feel the need to straight-up snort coffee grounds in order to feel okay.
9:10 A.M. – En route to the Train Station
Just as waking up has been easier than the previous installment, so was my walk there. Yes, dear reader, this time I have no tales of peril and facing deep-rooted fears to deliver to your eager eyes (it would be eyes for an article, right? This feels so wrong). I had the experience that I envisioned for my trip to New York, a pleasant walk on an autumn morning.
9:35 A.M. – Arrive at the Train Station
Guess who was wrong for the second time this article? Me, because I'm the only consistent character. I can't believe you almost fell for that. I also can't believe I've spent this much time dedicated to this joke. Moving on, you might remember how I mentioned that a ticket to and from Jefferson Station from Zone 3 costs $7.00, no matter the time of day or week. Hopefully you didn't remember that, but you do now. Today, I discovered that there is actually a ticket booth at my station, hidden within a small coffee shop (a sign would be nice, guys). Buying a round-trip ticket there only cost me $10.00. My life is forever changed.
9:48 A.M. – Train Arrives
10:15 A.M. – Arrive at Jefferson Station in Philadelphia, PA
11:00 A.M. – "Forgotten Chestnut Street" Tour (Chestnut Street)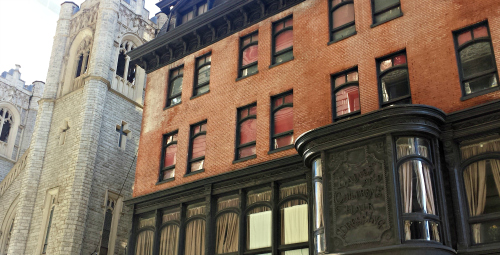 On this very chilly morning, I decided that it might be a good idea to take a walking tour with Hidden City Philadelphia, an organization dedicated to providing visitors with a look at lesser-known parts of the city. I have to say, setting out, I was really excited for this trip. I had been wanting to go on a tour with Hidden City Philadelphia for a while, and I felt that for two hours, the $12 price was beyond fair.
However, my expectations quickly began to take a nosedive as the tour began. Though I had seen on the website that the tour was only covering what would normally have been a twenty-minute walk, I somehow failed to recognize that we would be standing still for the majority of this event. As we walked a few feet and stopped again, my limbs progressively freezing, the guide informed us of the architectural history of the surrounding buildings. At the beginning of the tour, I learned some really interesting facts, such as how the location we started in, which was pretty much dead at the time the tour began, actually used to be the city's major cultural and social center. However, there is only so much information that one can cram into their head on a cold morning, and I was left feeling exhausted by this tour even though I had only walked ten feet.
Overall, I made the mistake of thinking that this tour would be similar to the three-hour city walking tour I had gone on in Brussels. However, the difference is that the tour in Brussels was free, with a tour guide who worked to engage and interact with us. But I digress; the tour guide from Hidden Philadelphia was nice enough, but nowhere near the level of "hilarious" that the tour's description had led me to believe. Overall, not worth the $12.
1:20 P.M. – Café Walnut (703 Walnut St)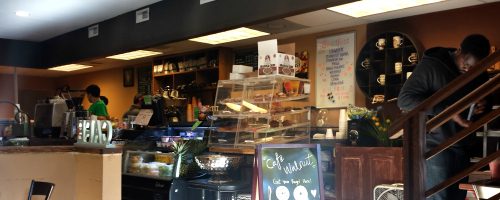 After the Forgotten Chestnut Street tour, I headed over to a café that I had been aching to try since my first trip into Philadelphia: Café Walnut. Somehow, every time I have gotten a chance to come into the city, I have either not had the chance to come to this place, or it was closed for the day.
To enter the café, you descend a small flight of stairs from the street. The place did not look at all how I expected it to, but that being said, I'm not entirely sure what I was expecting, as the café was extremely cozy. I ordered an egg and cheese breakfast sandwich on a sesame seed bagel, along with what I had been looking forward to literally since I planned this trip: the red velvet latte.
The drink was really cute, taking on a reddish-pink hue in the cup. Despite the appearance though, it tasted just like a normal, albeit sweetened, latte. I tried to identify something unique about it. In the end, I think I might have even imagined the reddish hue in the cup a little. Nonetheless, it was still a tasty coffee, and I adored the sandwich I got. Though the latte may not have been spectacular, a drink that I do highly recommend is the chai tea latte, which I had the honor of experiencing a single, glorious sip of from a friend I was with.
2:00 P.M. – "Forced from Home" Exhibit (Independence Hall)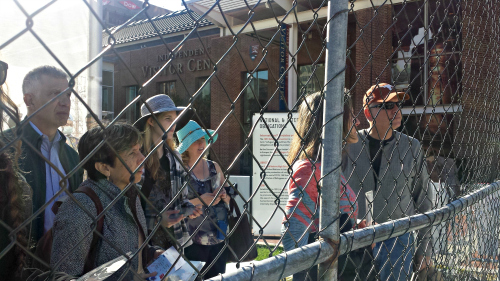 My next stop today was to a dangerously more tourist-y destination in Center City: Independence Hall. However, I wasn't here for the typical historical themes, but rather, a temporary exhibit set up outside by Doctors Without Borders (also known as MSF). The exhibit is called, "Forced from Home," and deals with the worldwide refugee crisis. Approaching this, I expected to just read a few signs and see some images from affected areas, but this is not at all what I got. At the entrance to the exhibit, you are given two options- going on an hour long tour with an MSF fieldworker, or sitting through a shorter virtual tour of the exhibit. Let me tell you, I'm so glad I decided to go on the longer tour! Our guide was a French woman who had gone on two missions, one near South Sudan and the other near Afghanistan. During this, she assisted in providing medical treatment to refugees who have fled their homes as a result of war, persecution, and a number of other factors. Hearing her first-hand accounts of the situation, accompanied by startling facts and the amazing interactive component of the tour (I won't spoil it for you), this was one of my favorite activities of the day.
3:40 P.M. – The Fabric Workshop and Museum (1214 Arch St)
In my research preparing for this day out in Philadelphia, I stumbled across something I had never seen before, or never really knew could exist: a fabric museum. Seeing that they had only just opened a new exhibit the day before my trip was scheduled, I knew I would have to make a visit here.
Entering the museum, I was surprised to find that there were once again only guided tours offered, and was prompted to wait in the gift shop until the next one began. So I did, and was then led through three floors of minimalist décor by one of the employees. The exhibit dealt entirely with the work of Ann Hamilton, a renowned visual artist. Incorporating text, fabric, and video, the exhibit was definitely interesting, and unlike anything I had ever seen. It was the first time I had ever seen an entire museum dedicated to one artist. Though the experience itself was novel, the entire tour was relatively short, but I walked away from it with one big takeaway: on each floor, there is a long line of paper with various creative writing pieces regarding fabric on them, completely free for the public to take. This was a practice Ann herself was deeply interested in known as common placing. Personally, I was very fond of the idea of collecting all of these vastly different writings that shared that single, minor similarity. It was almost like creating a scrapbook, in that all of us on the tour were given the same materials, but walked away with something unique to each of us.
5:30 P.M. – Art Effect Teen Art Exhibit (Savery Gallery)

There's nothing quite like being faced with the artwork of a twelve-year-old with infinitely more talent than you. A handful of students were given access to unlimited supplies and studio hours, advice from renowned artists, and told that after a few months their work would be displayed in Philadelphia. This happened to be the opening night of the exhibit, rendering a crowd that was excited and friendly. Each person receives a packet upon entering the building which contains each artist's works, name, age, school, and a (very philosophical) description of the work on display. I must say, I wish all museums had artists give an explanation of their pieces, I think it offers the viewer a new level of engagement.
6:50 P.M. – Jake's Sandwich Board (122 S 12th St)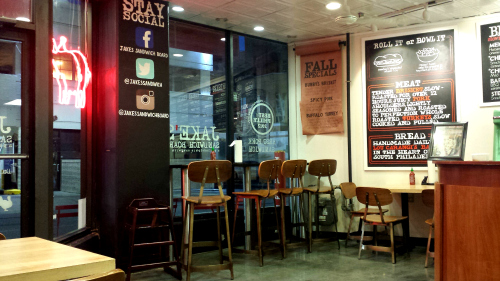 This was not the originally scheduled dinner place. The place I had planned was not only incredibly crowded, but so loud I was afraid that if I went in, I would walk out unable to hear anything ever again. Even standing outside cost me a few precious decibels. After a quick and panicked google search of places that were near me, I arrived at Jake's Sandwich Board.
Jake's Sandwich Board isn't quite a restaurant, but it isn't quite not one either. They sell, you guessed it, sandwiches. Not to make you feel bad if you didn't guess it. Are you okay? Anyways, from what I've read about this restaurant, they pride themselves on having really fresh ingredients (not in the same way that Subway does, I assure you). There is plenty of seating, many of which have charging stations, and sleek, modern décor. Walking into the shop, I was shivering uncontrollably because my body likes to wimp out at the slightest suggestion of the cold. To regain my composure, I ordered something called the "Crunchy N' Hot," solely because I wanted to insure that I was receving a warm meal. I was sorely mistaken in my interpretation of the word "hot." Upon arrival, I discovered that the sandwich contained the following: a garlic spread, provolone cheese, and copious amounts of fried jalapenos. My lips were chapped for two days after eating this sandwich. I think I legitimately burned them, but a good burn. The kind everybody but me seems to feel while they're working out.
8:10 P.M. – Comedy Show (215 N 11 St)
For the final event of the night, I slumped my tired self down to the Good Good Comedy Theatre (even the name makes me giggle). This was my first experience here, and I found out about the place from their awesome website, and discovered that the tickets to all of the performances were really cheap. I went to the 8:30 P.M. showing of "How the Shit?", during which a panel of local comedians acted out a variety of wikiHow posts. It wasn't until afterwards that I found out that tonight was the premiere of this particular show! Honestly, this whole experience was love at first sight. There was a good crowd at the theatre (outside of one man who was so drunk even the host was a bit concerned), and it seemed like a lot of them attended multiple shows in one night. The small size of the theatre worked to the staff's benefit, as there was a lot of really hilarious audience interaction. The woman they called up from the audience was so hilarious I was sure she was part of the act. For $5-12 ("How the Shit?" was $5), the quality of the shows they put on here is absolutely worth the money. My only complaint is that we won't be seeing the guy from the "How to Fake Your Own Death" segment ever again. You didn't hear it from me that he faked it.
9:50 P.M. – Enroute to Train Station
10:00 P.M. – Train Arrives at Station
10:10 P.M. – Train Arrives in Glenside, PA
10:40 P.M. – Back in Dorm Room
The Scary Part (A.K.A. Costs):
Transportation: $10
Food: $19.08
Café Walnut – $8.36 (Meal alone = $4.50)
Jake's Sandwich Board – $9.72
Events: $16
Hidden City Philadelphia's "Forgotten Chestnut Street" Tour – $12.00
Good Good Comedy Theatre Show – $5
Total Cost of the Day: $45.08