Doylestown, PA
About twice a year, the average university student will experience the apocalypse. This time period is also known to some as finals week.
While most affected by this trying time might be tempted to hide away in their dorms, typing papers and studying notes inbetween breaks from panicking, pushing yourself to get out can relax and reset your mind to a point where it can begin to grasp the semblance of productivity. Clearly, the full-day trip to a faraway state isn't as viable during this time. If anything, that kind of adventure can risk adding more stress to the student. This is especially true if it's their first time in a new city, where they could likely spend way more than they set out to if they aren't careful.
With the situation considered, I knew that this trip had to be local, cheap, and quick. But without a car, such a thing seemed impossible for a small-legged girl in what often feels like the middle of nowhere. Looking to the train, I remembered my time in London, where I often wondered what it might be like to take one of the subway lines all the way to the end. Regretting having never done that, I decided that I wouldn't let that opportunity pass me by again here. That, dear reader, is how I ended up in Doylestown.
12:30 P.M. – Waiting at the Train Station
I arrived at the train station super early today after actually striking gold and getting a ride from one of my friends. I had only ever taken the train into Philadelphia, so walking around to the other side felt more than a bit uncomfortable. The only other person waiting was an old man with a pom-pom-topped knitted hat and a cigarette. While waiting, I realized that this was the first time I was boarding a train away from a city, rather than towards one.
12:50 P.M. – Train Arrives
This was the part where I thought I would have tons of fun and interesting stories to tell. The ride from Glenside to Doylestown is 50 minutes, and given some of the things I've witnessed on my half hour rides into Philadelphia, I thought this would be a new level of entertainment. Turns out that there are very few hoodlums on trains going away from the city at 1:00 P.M. on a Sunday.
1:50 P.M. – Arrive in Doylestown, PA
2:00 P.M. – The Mercer Museum (84 S Pine St)
There is furniture on the ceiling. You do not know this when you first enter the Mercer Museum, so maybe that's a spoiler. Initially, you see a pretty basic gorgeous castle, and walk in to find a white, minimalistic, modernly refurbished lobby. The rest of the museum is anything but that. I applaud the irony.
The whole premise of the museum is to showcase the lifelong collection of a gentleman anthropologist, also known as a hoarder (joke, please don't hurt me), Henry Chapman Mercer. The museum is organized by subject, from the medicinal arts of the nineteenth century to a recreation of a general store. It's six floors of packed rooms, narrow hallways, and probably two to ten ghosts. The best part? For college students, the ticket is only $10 when you show your ID.
3:00 P.M. – Central Books and Bucks County Bookstore (35 W State St)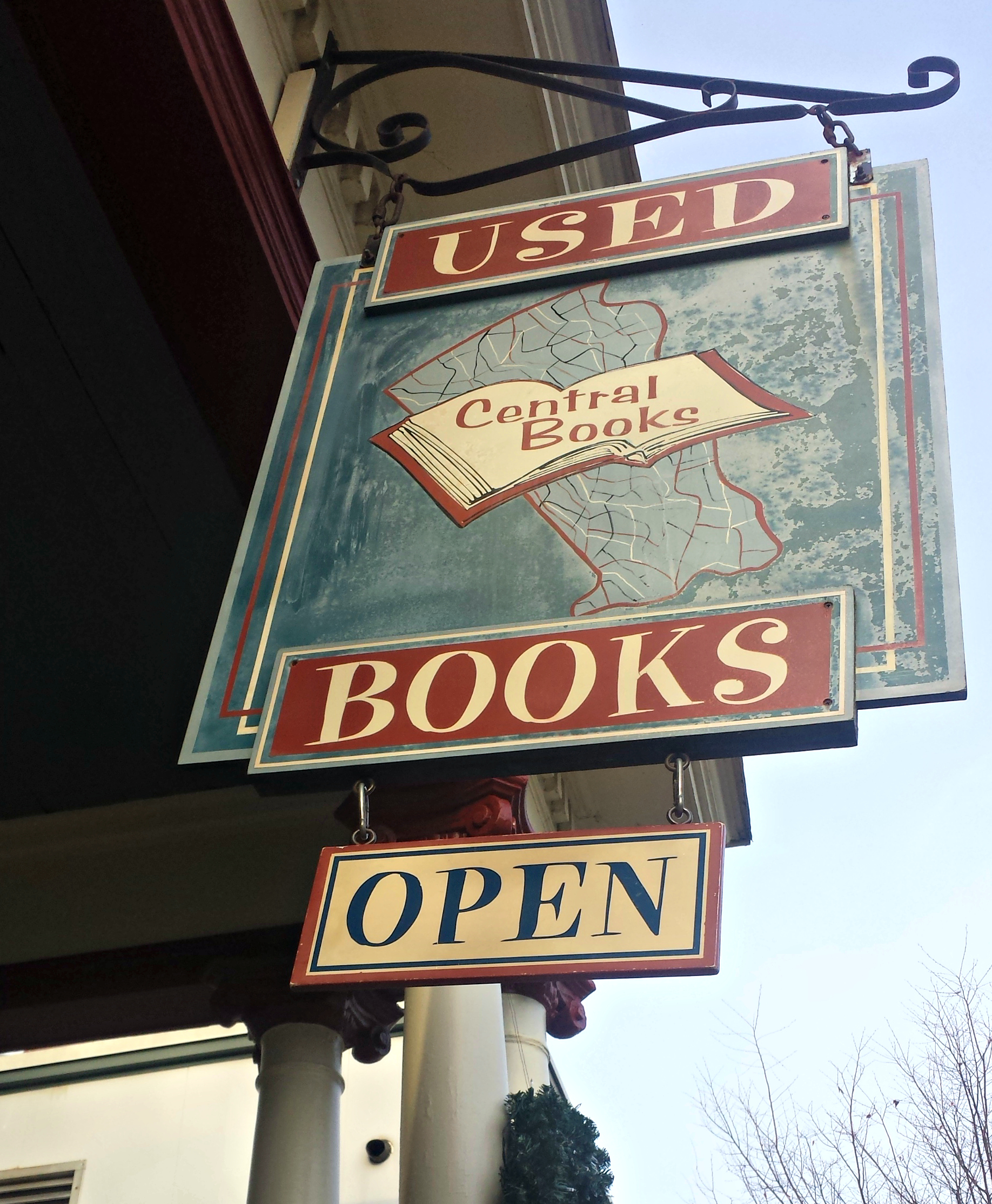 After the Mercer Museum, I was kind of at a loss of what to do. Unlike major cities, it's considerably more difficult to find the best activities to do in a smaller town online, especially when it comes to free or temporary events. So, rather than spend precious essay-writing (or procrastinating) time on digging through the archives, I decided to just take a walk down Main Street instead. In doing this, I soon came upon Central Books, a used book store which conveniently shares a building with another venue named Bucks County Bookstore. The place is two floors of overflowing shelves, with winding hallways where you just keep finding more rooms. The day I was visiting, both stores were in the middle of some huge sales! When I say that, you'd best take it seriously- we're talking 33-95 cents per book here. Though the sale wasn't storewide, there was still a considerable amount of material for that price. The inside of the store only got better, too. Take a moment to envision in your mind those beautiful, hardcover, collector's edition classics at Barnes & Noble. Now think of their price. Now cringe at said monetary amount. Now listen to me tell you that they have books of equal quality at the Bucks County Bookstore for $10.
3:20 P.M. – Patricia Hutton Galleries (47 West State Street)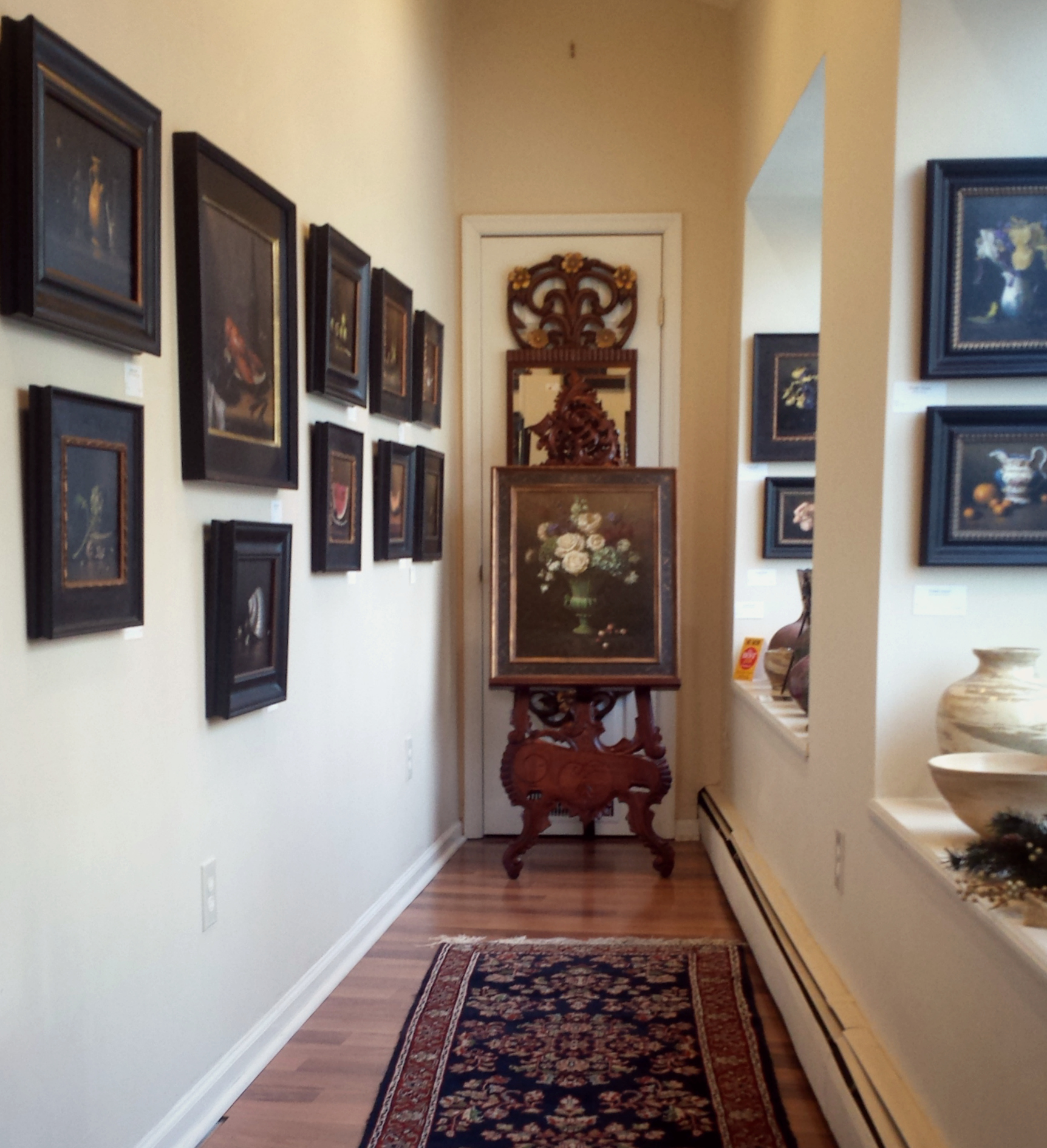 Resuming my walk down Main Street, I saw and remembered a place I had found during my initial research of Doylestown: The Patricia Hutton Gallery. The gallery looks a lot like a house, albeit one where every centimeter of wall space is filled with expensive art. Basically, it's your average Sims game once you get a little too bored. While I was here, and automatically treading lightly with my leather boots and giant backpack after seeing prices at and beyond $3,000, the woman working at the time immediately engaged me in conversation. From her, I found out that the store had been open for about seven years, the changing themes in the store (typically going according to the season), and about her own history working in the arts. Though I personally couldn't afford the art there, to me, the place served as a friendly, cozy museum. One of the artists had dropped off free cookies for the public to take, too.
3:50 P.M. – Siren Records (25 E State St)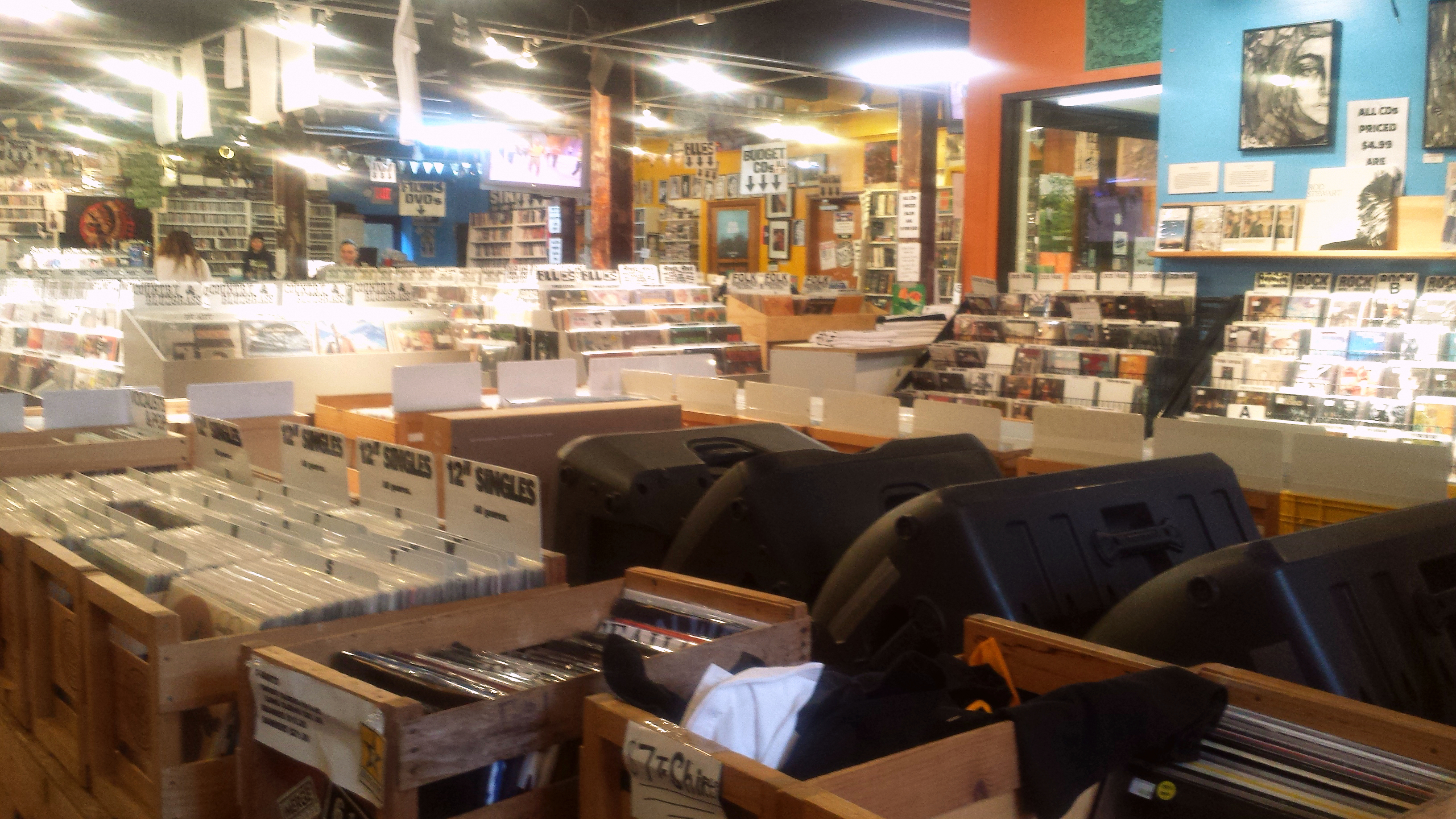 Something I learned today was that the likelihood of chance encounters during a day out is far greater than you might initially think. When I left the Patricia Hutton Galleries, I ran into one of my classmates who I found out lived in that town. Like anyone who might dare think themselves even a slight journalist, I interrupted her photography session to ask her what spots around town she recommend I visit. Almost immediately, she told me I had to visit a store that was back the way I  just came, Siren Records. This place is exactly what the name suggests: a record and CD shop! Though most think that this type of store is past the point of dead, vinyl records have recently been undergoing a resurgence in popularity. However, for now, there are still very few stores actually in operation, making Siren Records a unique and interesting spot. From what I've heard, they offer live music sometimes (in addition to the excellent background tunes they always have playing), and there are billboards full of flyers for local bands and musical opportunities.
4:10 P.M. – CGR Games (46 E State St)
At this point, I was starting to get a little hungry, and started heading towards the place I was determined to stop at from my previous research. On the way there, though, I came across a brick alleyway with a small chalkboard sign. It reported that further down, there was a vintage video game shop. I basically sprinted down that alley, partly because of genuine excitement, and partly because I felt bad that these guys had gotten such a bad piece of real estate. How many people are going to willingly walk down an alleyway to get to your store, especially as it nears nighttime in the winter? Nonetheless, I arrived at the store to see on their sign that they had closed at four. Darn. As I turned around, I heard the door jingle open, and the single cashier told me that they were, in fact, open. I was the first of many within the next twenty minutes to inform him about the incorrect hours on his sign. The store wasn't quite what I was expecting, as I had somehow thought "vintage game" referred to super old board games as well as video games. The selection did include some modern pieces, but what really caught my eye, and about five minutes of the cashier's time as we talked about it, was the price of the first Crash Bandicoot game. It was like $44, and it came out in 1996. I played that all the time as a kid, and it's probably collecting dust at my Grandma's house. I am sitting on at least one good sweater's worth of money here, people (calm yourselves, the disc is also precious childhood memories). Honestly, I hadn't thought there was any option left for purchasing games besides online or in a GameStop. The monopoly had not yet won, though it has gotten to the point where competitors are jammed into small stores down alleyways in suburban neighborhoods.
4:30 P.M. – The Zen Den (20 Donaldson St)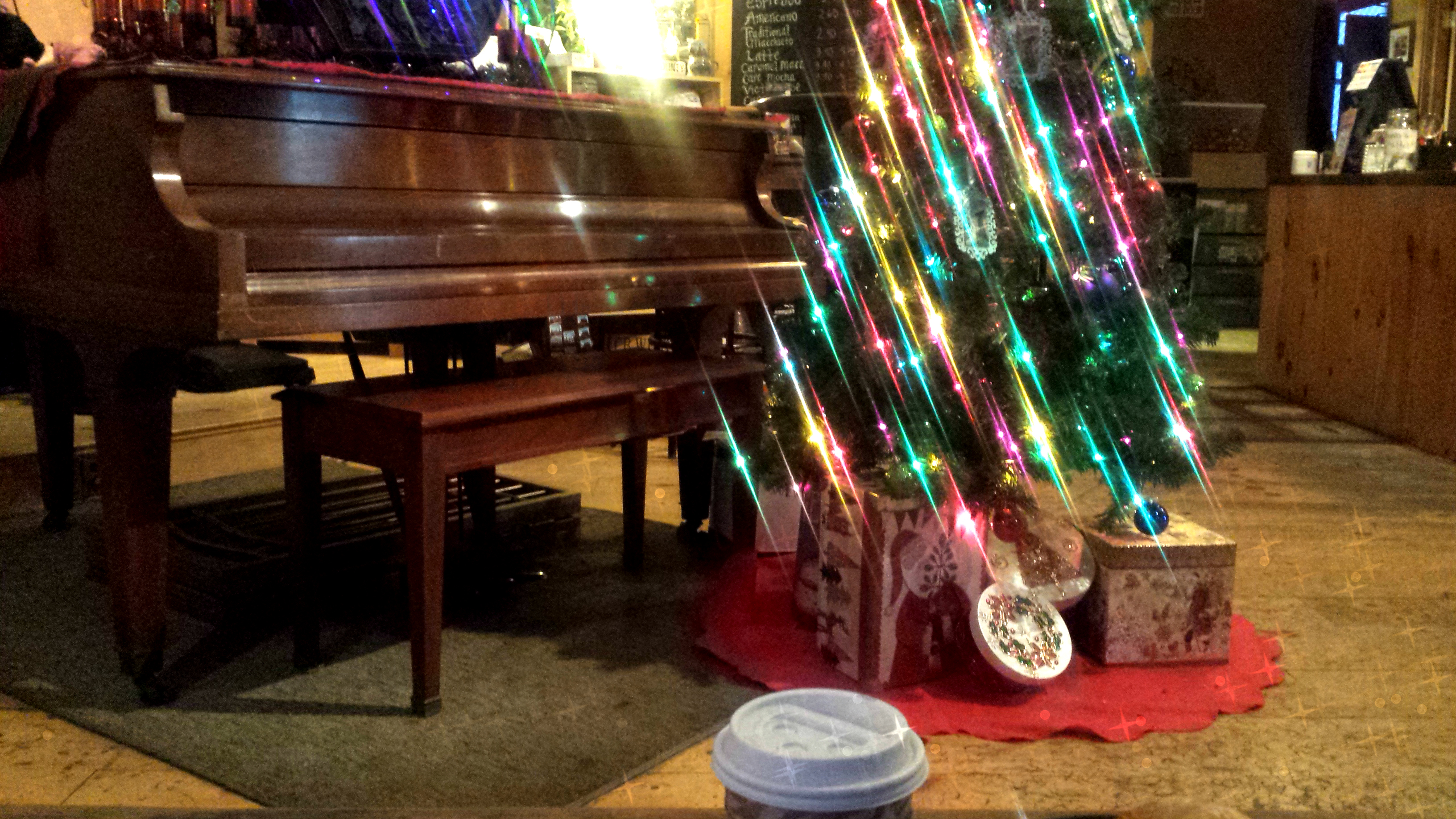 Sufficiently in need of some food now, I parted from the game store and headed to a place where there was little food to eat other than pastries. You're probably thinking that a quality hot beverage is becoming distinctive of this column, but it's really just a necessity for my life in general. This deep-rooted need is exactly what led me to a small venue called the Zen Den. 90% of my time there consisted of me deciding what to drink. Honestly, the tea and coffee menu this place sports rivals that of the Cheesecake Factory. After making the huge decision to grab a tea instead of coffee, I asked the barista what he would recommend, and got a blend of Peter Rabbit and Fairy tea, which altogether consisted of hibiscus, lemon, orange, rosemary, lemongrass, rosehips, and peppermint. All topped off with a little bit of honey. Paired with a croissant, I was more than set for home as I absorbed the surroundings of rock waterfalls on the walls, candles lining the windows, and mismatched plush chairs and couches throughout the building.
If you're a little bit unusual, perhaps you'd like to have some actual food instead of chilling on a bench at a café. If that's the case, the woman I met in the Patricia Hutton Galleries recommended a place to me that seems to be very well-loved in the town: The Sabrosa Taqueria, located at 34 E State St.
4:50 P.M. – Enroute to Station
5:03 P.M. – Train Arrives at Station
5:53 P.M. – Train Arrives in Glenside, PA
6:30 P.M. – Back in Dorm Room
The Scary Part (A.K.A. Costs):
Transportation: $8 (Well, $4 for me, sorry guys)
Food: $6.32
Events: $10
Total Cost of the Day: $24.32