Students at my university, Arcadia, tend to have one thing in common: A desire to travel. There's a program here which allows some first years to go abroad for their very first semester, and that program was the absolute tipping point in my decision to deposit.
However, for all of Arcadia's global expertise, there is another feeling which tends to pervade the home campus while students are here. I've felt it myself, seen it in my friends, and have heard strangers talk about it while walking to class:
Get me the hell off of this campus!
It's my suspicion that students of other small, suburban colleges tend to feel this too. Part of the reasoning behind this is simply that travelling tends to be easier while you're abroad. At least in England, where I studied, the structure of semesters tends to involve more free time. I had class three days a week. Sure, on the days that I did have class, I ate, breathed, and thought only of it, but the remainder of my time each week was in my control.
These days, I tend to feel relatively trapped. When I step outside of my dorm, I'm still surrounded by people and places intertwined with the University. It's a little bit suffocating. Being a traditional poor college student, taking six classes, and having neither a car nor a bike to my name, trips off of campus felt impossible.
That thought inspired a lot of very edgy hopelessness and resentment in me. I was the epitome of bummed out. Every detail of my campus started to annoy me,
"The library is nothing more than a concrete eyesore, and should be bulldozed immediately."
"How could they bury an actual river beneath campus!"
"The commons building is placed directly in front of the setting sun, look at how the darkness encroaches."
Forever the optimist, I later thought, "There has to be a way around this." There is. You might maybe be reading it. Shocker.
Each edition of this column will cover a different city (and how I've somehow managed to get there), but each city will have a particular section of it honed in on. After all, when you're already stressed out, with the added benefits of no money or time, it's unwise to attempt to take on a city in full. If you try that, you might miss the details.
One thing that should be made clear is that I am not the perfect traveler. Outside of the fact that this is my first time attempting trips like these, travel is a messy pastime. Things go wrong. I make mistakes. When we go through something on the spot, we often don't have the benefit of retrospect. I just ask that you keep these things in mind if you ever feel like smacking me about something.
So without further ado, for the first entry, I've decided that we either have to go big or stay home:
New York City – Greenwich Village
I chose Greenwich Village as the area to explore because it retains the iconic feeling of New York City while straying a bit from the typical tourist's route. It's been called the "Bohemian capital," and helping to fuel this title is the fact that the area has a higher density of college students to other areas in the city. This is due to the fact that two private colleges, NYU and the New School, are located in the Village.
4:30 A.M. – My Dorm Room
There's no need to get up this early for a trip to New York City, at least if you're coming from the outer Philadelphia area like I am. Being up at this ungodly hour is a product of my insanity. I am a fabled morning person. Is 4:30 A.M. even considered the morning?
5:20 A.M. – Enroute to the Train Station
I've never been a person who feels comfortable walking outside at night, especially by myself. However, I would have gladly walked around my school for over an hour at 9:00 P.M. if it meant I wouldn't have had to endure this twenty-minute walk at 5:20 A.M. When I originally scheduled this trip, I had been really comfortable with that fact that I'd have to get up and then walk to the train station so early. I felt it would be a peaceful, refreshing walk where I enjoyed the morning dew and sunrise (I may need help).
I didn't happen to remember that the sun would not be rising until 7:00 A.M. at this time of year. Enter pitch black, cold, empty suburban streets. Literal minutes passed between each sighting of a car, which was especially creepy considering that my school is surrounded by very large, typically busy roads. I'm just glad I wasn't aware of the clown phenomenon at this time.
5:43 A.M. – Arrive at the Train Station
5:57 A.M. – Train Arrives
6:32 A.M. – Arrive at Jefferson Station in Philadelphia, PA
The journey to Philadelphia was relatively uneventful. The two major takeaways were my shock and disgust at still being charged $7.00 to get there, which is the same price you're charged on weekdays during what are considered "peak times" as well. But I then saw someone dressed in full marching band attire, carrying a flute, all by themselves. That took the edge off a bit.
7:00 A.M. – Arrive at bus stop
See that white sign standing up on the sidewalk like it's advertising a sketchy yard sale in your area? That was the only marker I could see to identify where my bus stop was. There is an actual bus station sign here, but not for the company I was riding with: HG Bus. Trust me, there is nothing else. Next to and behind me is only a blank expanse of brick wall that marks the backside of Temple University's Podiatric School.  There were a couple of other people waiting near me, making me more confident that I was in the right place.
Luckily, I didn't have to wait long before the faded Pepto-Bismol pink bus creaked into the station. I wish that this was an exaggeration. This bus was ancient, with windows so dirty and weather-worn that the inside of the bus was literally dark. However, since it was a little cold out, I was eager to board the bus and pleased that they let me on as soon as they pulled into the station. The inside of the bus wasn't as dirty as the outside let on, not that I could see much anyways. There were no seat-belts, but who wears those on a long bus ride anyways? (Hint: me.) My ticket wasn't checked until five minutes before the bus left.
7:45 A.M. – Bus departs from station
9:25 A.M. – Bus arrives in NYC
The bus arrived in NYC'S Chinatown EARLIER THAN SCHEDULED. For this reason, along with the price, I will definitely be using HG Bus again. Moving on, now in NYC, we are a 22-minute subway ride from Greenwich Village. It isn't too unbearable of a walk, but if you feel like saving some time and experiencing the subway, it's a $3 fee to go absolutely anywhere. To get to the Village from this particular bus stop, you enter the nearest subway station, East Broadway, which you can pretty much see from the bus stop. Once you're in, you take the F Line to West 4th Street Station.
9:50 A.M. – Bagel Bob's (51 University Pl)
Bagel Bob's is easy enough to miss, nestled between a variety of other stores, all with the same green awning and white lettering. Do not miss them. New York is relatively well known for the quality of its bagels, therefore, what better way to start a day in the city than with amazing bagels from a small shop?
The actual bagels here are super cheap, at about 50 cents. The cream cheese is where the price really comes in to get you, ranging from $1-4, depending on the flavor you get (yes, there is a lot of variety). I got a sesame seed bagel with strawberry cream cheese. It was delicious, but I realized too late that they offered Nutella cream cheese, and have regretted my decision since.
Thing to know: Bagel Bob's is CASH ONLY.
11:00 A.M – Pagan Pride Festival (Washington Square Park)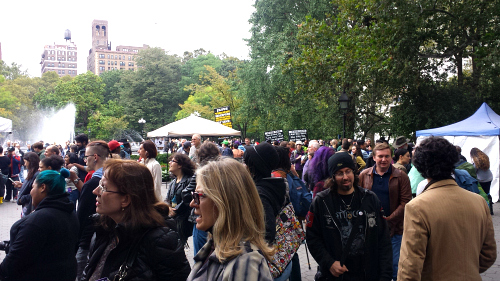 Honestly, you probably aren't actually in NYC if there isn't some random, one-day-only event happening. It's partially finding spontaneous things like this which make life in cities so endearing for a lot of people.
The day I chose to come to Greenwich Village for this article just happened to be the same day as the Annual Pagan Pride Harvest Day Celebration. A fundraising event for City Harvest, vendors set up shop all around Washington Square Park selling jewelry, ritual items, tarot card readings, clothes, books, beauty products, and so on. There were various performances, ranging from stand-up comedy to local musicians, and also your friendly neighborhood religious protesters. They set up shop behind a few metal gates, handed out their flyers, and raised their picket signs high. Few people paid the five of them any mind.
1:30 P.M. – AIA Center for Architecture (536 LaGuardia Pl)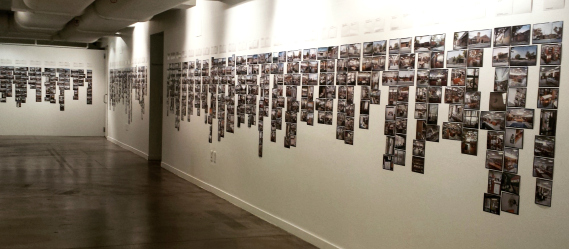 One of many museums in cities across the nation, the New York chapter of the Center for Architecture is operated by the American Institute of Architects. This museum, though small, is packed with information and has its art intertwined into the very building. Additionally, the building acts on its environmental planning ideals through powering itself with geothermal energy.
Though there is little I understand about architecture, for the whopping $0 this museum requires for you to visit, I was surprised and pleased by the quality and quantity of information within it. The basement level in particular, pictured above, interested me because it was dedicated entirely to the New York Public Library system. Each photograph displays a different branch, and then compares the architectural styles between them.
2:35 P.M. – OatMeals (120 W 3rd St)
OatMeals, as advertised on its website, is the world's very first oatmeal bar. It offers nearly 30 different sweet and savory oatmeal dishes. I chose to come here due to my undying love for oatmeal, the unique idea and specialization of the shop, and the fact that it reminded me a little of London's Cereal Killer Café, which I miss on a daily basis.
Discussing the practical matters of the shop, here's what you need to know:
You can order a signature dish, or create your own
Accepts cash and credit
Somewhat limited seating
You can get oatmeal in three sizes: baby bear, mama bear, and papa bear
I ended up ordering a "Hot Date" and a chai tea latte. It contained peanut butter, dates, walnuts, and sunflower seeds. I was a little bit in love, but even more so with the atmosphere of the place!
3:00 P.M. – The Evolution Store (687 Broadway)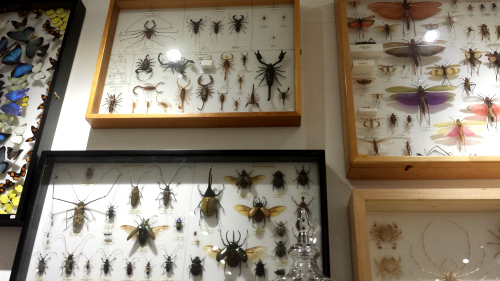 If you're still reading this after seeing the above picture of preserved bugs, firstly, thank you. Secondly, those very bugs are part of the reason that The Evolution Store is so popular. In business since 1993, the novelty of this store is that they give off the appearance and atmosphere of a museum, yet almost everything has a price tag. The owners state it best on their website:
"Our store offers a museum quality atmosphere, creating a unique and intimate shopping experience."
However, despite technically being a store, the price of most items here are steep. For example, they have an item named "Manhattan Project Glass Skull", which is a relatively small glass skull carved out of glass tinted yellow by radiation. The really significant part is that the radiation came from Uranium that was being enriched for Trinity and Fat Man, two Atomic Bombs. Its price? Only $4,995.
3:56 P.M. – Grey Art Gallery (100 Washington Square E)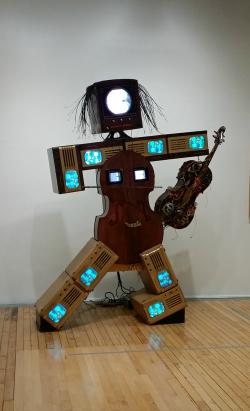 Operated by New York University, the Grey Art Gallery is free for everyone, not just students of the school. Another relatively small gallery, the content in here changes periodically, closing down completely between exhibitions.
Currently, the Grey Art Gallery is hosting the exhibition "A Feast of Astonishments: Charlotte Moorman and the Avant-Garde, 1960s-1980s". It focuses on the life, music, and legacy of Charlotte Moorman, a traditionally-trained musician who dedicated her career to breaking social roles, rules, and expectations. Her story is portrayed simply and beautifully through a variety of different mediums in the gallery, including film, paintings, and statues.
The Charlotte Moorman exhibit ends on December 10th, so see it while you can! The Grey Art Gallery will reopen with a new exhibit, "Inventing Downtown: Artist-Run Galleries in New York City, 1952-1965" on January 10th.
4:50 P.M. – Saigon Shack (114 Macdougal St)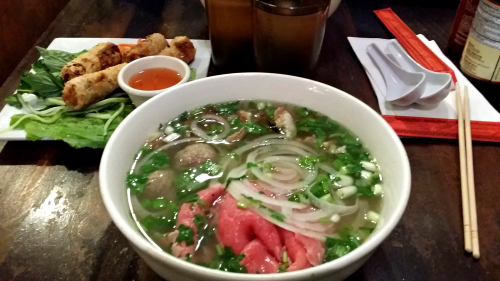 NYC has a lot of iconic foods, but one thing that isn't often talked about is the city's culinary diversity. If you want to shoot for something more "New York" such as 99 cent pizza, be my guest! It's definitely an experience to have if you're a first-time visitor. However, there's a lot of value in the variety of dishes you can find here, so I wanted to take this opportunity to dive into that scene.
Saigon Shack is a low-cost, well-liked Vietnamese restaurant in the area. The atmosphere is warm, busy, and friendly, though some might think it a little crowded. I was seated quickly, and served fast as well, despite the restaurant being packed for the dinnertime rush. While there were some truly inexpensive options on their menu, I opted for the slightly pricier Saigon Bowl, their signature pho dish. To top it off, I sprung for a Vietnamese coffee as well, after being highly interested and confused as to what that was. Apparently, it's prepared with egg! Though I'm still wrestling with how to feel about eggs in my coffee, it was delicious nonetheless.
5:30 P.M. – Enroute to Bus Station
6:00 P.M. – Arrive at Bus Station
6:45 P.M. – Bus Departs for Philadelphia
8:45 P.M. – Bus Arrives in Philadelphia
9:11 P.M. – Train Arrives at Station
9:38 P.M. – Train Arrives in Glenside, PA
10:00 P.M. – Back in Dorm Room
The Scary Part (A.K.A. Costs):
Transportation: $29
Train – $14
Bus – $12
Metro – $3
Food: $28
Bagel Bob's – $4
OatMeals – $9 (Meal alone = $5)
Saigon Shack – $15 (Meal alone = $10.95)
Total Cost of the Day: $57
Okay, I realize that this cost is still pretty expensive for the average college student. However, I also went off of what I had pre-planned for myself on multiple occasions. Instead of getting just a meal at OatMeals, I decided to get a fancy coffee, too. Instead of having $1 Pizza (A delicious phenomenon in NYC that you must try) for dinner, I went to an otherwise affordable Vietnamese restaurant and got their signature dish, plus yet another fancy coffee. Let's just say that I went a bit over in my price so that you don't have to. Fancy coffee is my weakness.