A myriad of colors and shapes; catching the light, and throwing it back in all directions.  History, street corners, and objects once lost now rediscovered. Fragments of life that alone say nothing but combined tell a beautiful, artistic story. This is what I see when I encounter the creations of artist, Isaiah Zagar. I came across Zagar's art during my first trip to Philadelphia, about a year and a half ago. His style is singular, and as I took more trips to the city and explored all of Philly's niches I began to spot his murals all over the city. This piqued my interest and I began to wonder about these magnificent works that marked the city and the man behind the art. Through my research I also found that his life is equally as colorful as his art.
Zagar, born in 1959, has spent around forty years creating mosaic art and now his work can be found on over 100 public spaces including Philadelphia and the world. The inspiration for his work came from his discovery of folk art at the age of19 and the work of artist Clarence Schmidt. This introduced him to the art of assemblage, an artistic form that entails creating 3-D works from found objects and integrating them into art pieces, and heavily influenced the rest of his career. He attended Pratt University in Brooklyn, from where he received a Bachelor of Art. After developing his artistry Zagar and his wife Julia spent three years in Peru working with the Peace Corps. While in Peru he worked with the local artists of the Puno region of Peru.  Shortly after returning Zagar and his wife moved to Philadelphia, where they would raise their son Jeremiah, and opened up a Latin American crafts and jewelry store, The Eye's Gallery, which ended up being the first host for his mosaic art. Apart from his work with the Peace Corps he has also done art residencies in numerous countries including: Tianjin, China, Rajisthan, and India. From there, the scope and skill of his work grew larger and larger. In 1991 he began to fill two vacant lots in South Street with mosaic sculptures and he would continue this project for eight years. In2002 he was forced by the owner of the lots to purchase the property or face demolishment, he did and now the space titled The Magic Gardens of Philadelphia functions as a non-profit organization. He has won awards for his unique artistry including an induction to the Philadelphia Dumpster Divers Art Association, and his works can be found as permanent pieces at The Philadelphia Museum of Art and the Hirshhorn Museum in Washington D.C.
As I became more enamored with Zagar's life and work I was prompted to take a trip to The  Magic Garden to fully explore his creations. Although I was aware that his work was all around Philly I was shocked by the places that I could see his mark. His creations have become a part of the culture and design of Philadelphia; to a passerby it may seem as if they'd always been there.   The murals that he has on arbitrary walls are unique but it pales in comparison to viewing his work compiled together as he has them in the garden. The space is designed in the form of a labyrinth, so you walk in on the first level and it winds downward in a circular pattern with assemblage art covering every inch of space including the floor. In a 2006 interview he says, "I think that a lot of my ideas come from temple complexes, city complexes, and South and Central America. Monte Alban, Machu Picchu……places where you are pointed toward the sky. Pointed toward eternity." The design of the labyrinth does incorporate natural beauty; the glass and mosaic walls throw the sunlight in all directions, providing the feeling of a heavenly space. Being inside the garden was like being in a whimsical, trippy game of I Spy. There are depictions of cross-gender bodies, supernatural creatures, and various found objects driven into the interior and exterior of the building. As I went through the space I could hardly focus on one singular object because it  seemed as though all of the objects, words, shapes, and colors had come together to form one spectacular feature, which I suppose was Zagar's intention. While I was looking through the pictures that I took from the garden I could pick out languages and symbols from various cultures from around the world, the most noticeably being relics from Latin America where he worked in the Peace Corps. Zagar collects objects and inspiration from every trip and encounter that makes and infuses his findings into his art.
His space and work is extraordinary, but I left wondering how one person could have the drive and patience to work so intently on a project for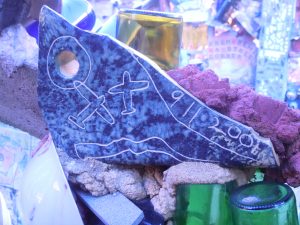 so long. His workspace is compiled of hundreds of objects, and every single found object that he uses has a purpose and a deliberate message. His art seems to be extension of his thoughts and emotions; it appears to be second nature for Zagar to use mosaics as a form of communication and expression. Being so divulged in his art at times led Zagar to sometimes forget that there was a world outside of his studio. This was shown in Jeremiah Zagar's 2008 documentary which gave a candid look into his father's life and work and how it affected, and at times dictated, the state of their family. Isaiah's work is his life and he is able to create such magnificent and detailed pieces because in his eyes art is his reality, and with his garden he gives the public a chance to experience his reality.
Zagar is quoted with saying, "Art should not be segregated in museums; it needs to live freely among us." This is made clear through the way that he chooses to showcase his work, but this is not the view or experience that the general public has with art. When many people think of art they picture stuffy buildings where you're not allowed to speak louder than a whisper while pretending like you're not completely bored. There is also a class association with art, historically it has been reserved for the wealthy and while that is not exclusively the case anymore it is still an activity for the well-educated individual. I believe that Zagar lives as more artists should, showcasing their work in the public making it apart of the landscape of cities and neighborhoods. With exposure comes education. His work isn't under inches of bulletproof glass or locked away but that doesn't make it any less important or creative. We don't have to travel to Paris or stand in a ridiculous line, these works of art are right in our backyard. Art is a subjective form of expression, a great work of art should be something that you spiritually connect and resonate with. Zagar's works draw me in and make me want to discover the story behind his creations and that in itself is a masterpiece.
Photography credited to Lauren Pickens via LocoMag