A few weeks ago, some of the Loco Mag staff (plus one boyfriend) gathered around to watch 13 Going on 30. We also decided to drink a lot of wine. This is what happens when you combine booze, a childhood movie, and the hardened outlook of adulthood.
We decided to turn our little movie night into a drinking game or sorts. Over on the right are the rules (please note that this is an almost impossible feat, so those who are 21+, please drink responsibly and don't even try to power hour through the whole "Thriller" dance scene because you will probably die). Here are a few standouts:
Drink until that rad 80s music is over
Anytime there's glitter
Mark Ruffalo looks hot (basically drink always because that man is fine)
"Thirty, Flirty, and Thriving"
Every time you realize that you never want to be 13 again
It's safe to say that those are a lot of rules. Do not do this. It did not end well, so learn from our mistakes. Now drink up!
Kara: This night is just an excuse to get drunk.
Megan: Getting drunk in the name of journalism.
Bri: I think it's bad to start off with a power hour.
Brais: Who's the Hulk in the movie?
Bri: No one has ever had a cloud as their school picture background
Kara: I never want to be 13 again.
Frances: Too much glitter.
Bri: Is THAT Ashley Bensen?
Frances: Teenagers should not happen.
Bri: [IMDB Check] That IS Ashley Bensen !!?
Kara: They wear crop-tops, Frances would fit in.
Kara: Mean girl looks like roommate's friend
Frances: Popular girl looks like roommate's friend.
Kara: They need feminism.
Brais: Is this a Mean Girls prequel?
Megan: JESSIE'S GOT HIMSELF A GURL
Bri: 5 minutes in and I already think I'm not going to make it to the "Why Can't I Breathe" montage.
Megan: What if someone hot made you a house? LIKE IN THE NOTEBOOK!
Bri: "I've been working on it for three weeks!" – Three weeks ain't nothin' broski. Noah took three years to build a house.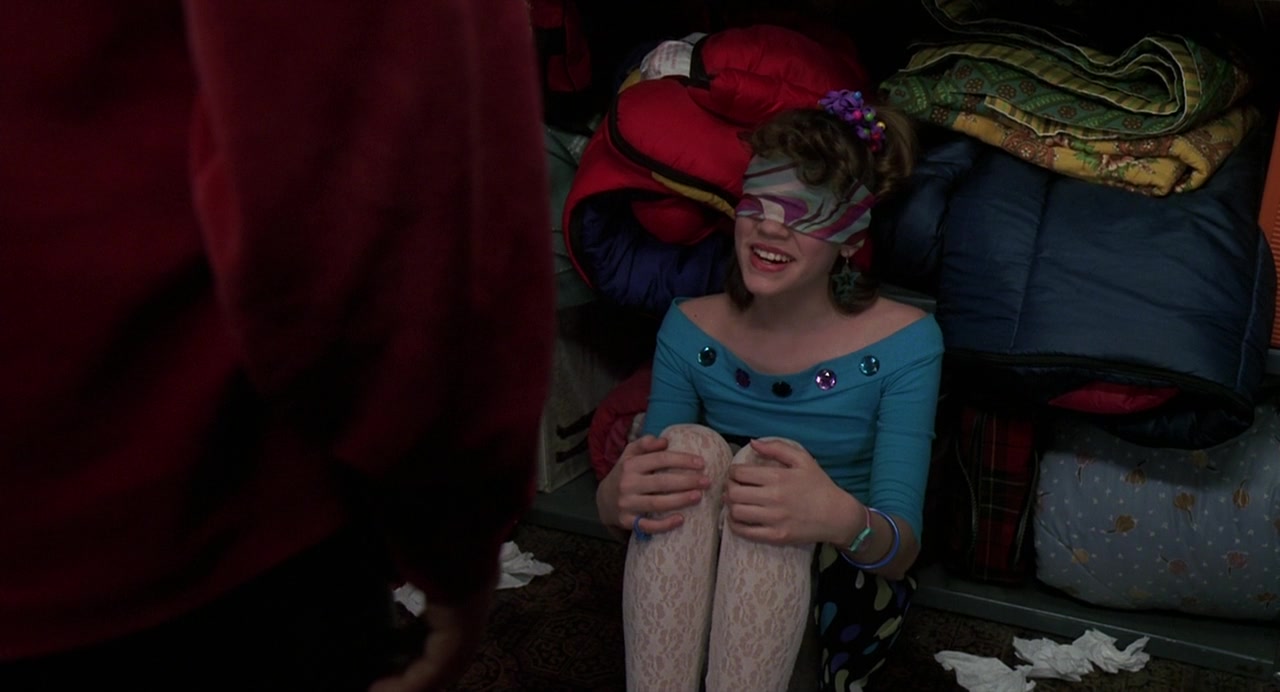 Frances: This kind of reminds me of my first kiss. I made out in a closet because someone told me to.
Bri: This is me every morning.
Kara: Who wears eye masks anymore?
Kara:…She also likes to hold her boobs a lot.
Frances: Jennifer has big lips. She got it from her mama.
Megan: He looks like a 2004 version of Carrie Underwood's husband.
Bri: Yes, let me use this umbrella to fend off all the naked attackers.
Bri: What kind of nickname is Sweetbottoms?
Megan: "I can't remember my life!"- College.
Bri: Poise has to be the worst name for a magazine because is that a name for pads, like what? Sparkle is a much better name for a magazine.
Frances: Poise. All I can think about is adult diapers.
Megan: But what if you woke up and you were friends with Madonna?!
[Frances and Brais discuss when to cross the street in NYC in length] Brais: You must wait for the signal!
Frances: No. Go whenever.
Brais: Signal!
Frances: No.
Bri: HELLOOOOOO MARK!
Brais: HULK!
Megan: CBGB SHIRT!
Megan: "You're tall, you're different"… YOU'RE THE HULK
All: DRINK!
["I Wanna Dance With Somebody" plays in background] Bri: I sang this song for my 6th grade talent show
Megan: BRI SANG THIS SONG FOR HER 6TH GRADE TALENT SHOW
Bri: I am scarred for life
Megan: "You want to see my ID? I totally have it."  – Jenna just turned 21.
Bri: That looks tasty. I want one.
Megan: She's drunk. But she can still walk down the stairs. How.
Megan: DA DADADAD DA DA THRILLLAAAAAA
Frances: Her boobs are flicking around
Bri: Richard is totally staring at her jiggly boobs
Megan: Richard is definitely a vampire.
Kara: Her trying to flirt with a 13 year old is yucky
Frances: RAPE. Law and Order. SVU. Gross.
Bri: ALERT ALERT WE HAVE SPLIT WINE THIS IS AN EMERGENCY
Kara: Fiancé looks like Jenna
Bri: Do you realize he's dating you, I mean you guys look exactly the same, that's so creepy.
Megan: Matt's fiancé is Jennifer Garner doppelganger. Also looks like a fish.
Bri: I'm sorry but no one with the name Wendy under the age of 35 can be your soulmate
Brais: [No longer paying attention]
Frances: OMG, weird ass striptease. Stop.
Bri: Who the f**k strips to "Ice Ice Baby"?
Kara: I spy a Chilton uniform
Megan: Becky has been GILMORED
Bri: Never ever ever have I felt the desire to put chopsticks in my hair. She looks like a tarantula.
[At this point in the evening, Kara leaves to go sleep. One down. Four more to go.]
Megan: 2 B OR NOT 2 B
Megan: Also, Bri has fruit roll ups.
Bri: This scene makes me so sad. Let's drink.
Bri: Even the closet has the same shit in it 17 years later! Has no one heard of garage sales?
Megan: Jennifer Garner = cute duck.
Bri: Give me pancakes. Give me freckles. Give me more montages.
["Why Can't I Breathe" by Liz Phair plays in background of photo-taking montage] All: "WHYYYY CAN'T I BREATHE"
Bri: …because I've had a whole bottle of wine?
Frances: Deep thoughts on nostalgia. Where was I in 2001?
Brais: You were waiting for me to come into your life.
Frances & Brais: SEX HULK SMASH
[Epic "Love is a Battlefield" slumber party dance scene] Megan: WE ARE YOUNG
Bri: LOVE IS A BATTLEFIELD…. you are damn right it is
Frances: Battlefield. How corny.
All: DRINK
Bri: "Heroin chic. Cause of death? Chicness" – Oh wow, you've sold me.
Frances: Gothic is so cool 2004. Middrifts….were so cool. Center parts are coming back.
Bri: Maybe the first thing they should do is change the name Poise.
Megan: Nostalgia does not make a magazine.
Bri: Wear a bra, Jenna. It won't kill ya.
Bri: "The cutest little backyard wedding since I don't know when!" – Since Four Weddings BITCH.
Bri: We've all dated that one guy who will turn into a cab driver.
Megan: JESSIE'S GIRL ROUND 2.
Bri: Yes, let me just hide behind these flowers. Ok. Sure. That's an A+ hiding spot. Nancy Drew would be so proud of you.
Frances: What she should do is patent the iPhone.
Megan: Look, she came out of the closet.
Frances: The original selfie.
Frances: Ugly pink houses.
Brais: So the key to success is being a bitch?
Brais: It was shitty. No one even got punched. What kind of movie is this?
Screencaps credited to kissthemgoodbye.net .