Have you ever paid to be locked in a room while a guy watches you through a camera as you try to escape? I have.
Warning: If you're claustrophobic or have an oddly specific fear of being locked in a room with strangers, do not read on.
A few weeks ago, my friends and I couldn't figure out how to spend our Sunday afternoon. Being on­ campus at school all the time can get a little boring, so we scoped out Google for some fun ideas to liven up our weekend. Rather than watching a movie or maybe getting lunch, like normal people, we chose to do something called Escape the Room. We booked three tickets and were off on our mini ­adventure.
If you've ever played with the "Escape the Room," or "Can you Escape?" apps on your phone or tablet, you know that those games are simultaneously complicated and amusing.
For those of you who don't know, the apps are, essentially, puzzle games that require a lot of logical thought. Some people can't finish them without walkthroughs, but there's no judgment here; you have to be very clever to figure out the advanced levels.
Yes, Can You Escape? was just an app, until some genius—and I say that with absolutely no sarcasm—decided to make it a real thing. Escape the Room Philly was born, an innovative, real­-life adventure game. My friends and I took part in a riveting and somewhat difficult experience that I would absolutely recommend to anyone who enjoys a good mystery.
When we arrived, we were directed to a waiting room where we met our new teammates. There were nine of us total: a big family, my two friends (Alyx and Shane), and I. After a few minutes' wait, we were directed to our room by a friendly guy named Andy who called himself our "Cluemaster." He would direct us via TV screen in the room if we needed help. He assured us that he could see and hear everything we were doing, and if we needed him, he would come.
With that, we were led into our room and locked inside. A series of hysterical, frustrating and mysterious events took place. Most of it entailed Alyx, Shane and I being jackasses, but that's nothing new—we solved puzzles, opened doors, made friends, and several inside jokes were born.
We didn't escape the room. We got very, very close, so close that the final lockbox with the key to get out was in our hands. We just couldn't undo the padlock. Although I was disappointed at first, I felt better when Andy told us that very few people make it that far to begin with.
There are two different room options currently available at Escape the Room Philly. My friends and I booked "The Dig," but "The Office," is also available (that's next on our list of things to do).
If you have any inhibitions, I can assure you that "being locked away," sounds worse than it is. The room itself was very cool, surprisingly tech-y, and just unlocking lock after lock was immensely satisfying. If you're worried about being locked in a room with people you don't know, personally, I found working with strangers to be a much more positive experience than I expected. I was forced, in a way, to problem-solve with people I knew for less than an hour. It's more of a bonding experience than you might think.
To avoid spoilers, I won't say anything about the room itself or what you have to do, but I will say that it's delightfully complex and anyone who enjoys a good challenge will have a field day. Although we may not have escaped the room…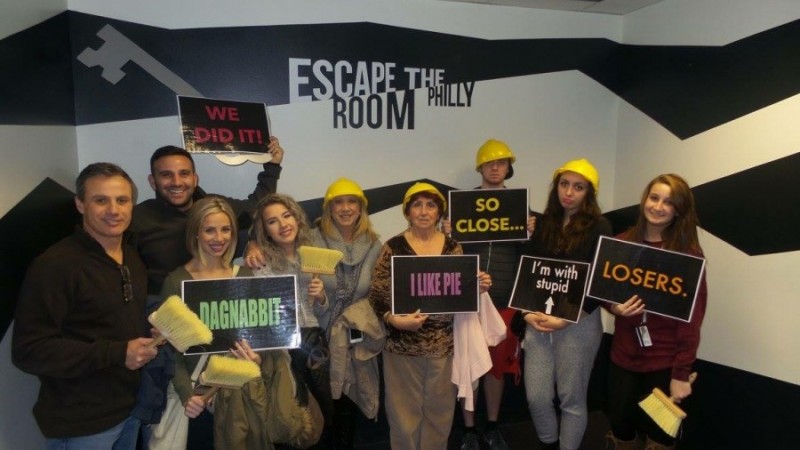 You might! I would recommend giving it a shot, and maybe you'll be part of the 20% of participants that actually get to unlock that final door.
P.S. The guy in the back is lying. He wasn't supposed to use that sign.