Halloween: the holiday of monsters, masks, and (most importantly) sugar. We're all stuffing our faces with sweets, sweets, and more sweets As for my search for diabetes-­inducing goodness, it began in the beautiful world that is Pinterest. A few key words and I had found my recipe.
My choice was red velvet cake; a bloody red dessert in the spirit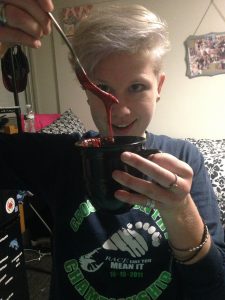 of the season. It was born simply, humbly, in the most valuable of dorm dishes: the mug. I dumped in the cake mix, mixed in some Reddi Whip and an egg, and my batter was ready.
Then, the most difficult part: an agonizing three minute wait as my creation spun around the microwave.
To distract myself from the anxiety of cake anticipation, I mixed sugar, cream cheese, and some more Reddi Whip to make a simplified version of my beloved cream cheese frosting.
FINALLY
The microwave beeped, the cake was done!
Once again, I was forced to restrain myself as I waited for my masterpiece to cool before liberally pouring on the frosting.
At long last, it was ready. All that was left to do now was enjoy.
The final verdict: surprisingly decent for a cake made in a dorm room in approximately ten minutes. Although, according to a friend, it was "Bomb cake, BTW." Good work, Pinterest.