I am a traveler and I have been all of my young life. I will go anywhere just for the sake of going. Settling into a time in my life when my traveling has become less than feasible has been challenging my general wanderlust. Lack of free time and money have kept me from going on any long trip for over a year now and most likely will for awhile.
So, while I wait, I have sought to find something to satiate my desire for all things travel through my own online explorations of what I like to call "The Perfect Vacations I'll Never Take." Instead of searching for cheap flights and friends floors, I prefer to spend my time looking up the most luxurious of accommodations in settings almost too magical to be real. This lack of practicality really allows a girl to dream. I don't have to worry about not being able to go because I know that there is a 99.9% (I always leave .1% for miracles) that I never will. They are everything you've always wanted before you even knew they existed. Things listed as regular amenities are things I normally file under the "dream" category. They are perfect because I will never have to find out if they live up to the incredible experiences pictured and described on their various websites.
Below I have compiled a list of 10 destinations out of the countless I have found that are real world replicas of childhood fantasies in the minds of us all. So hold onto your imaginary wallet: we are going in…
GIRAFFE MANOR
http://www.tamimiea.com/giraffe-manor/index.html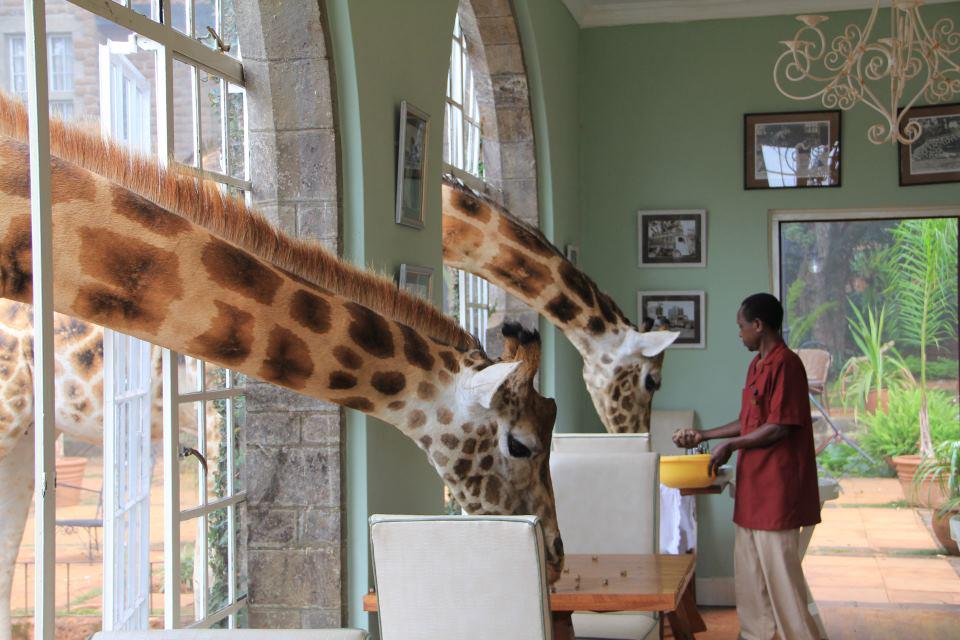 Many a childhood dream have revolved around some sort of animal. I went through my horse girl stage, the panda bear era, and of course both sides of the cat and dog debate. So, even though giraffes never made it on my obsession list, I know that both the childhood me and adult me would not regret a visit to Giraffe Manor in Nairobi, Kenya. Giraffe Manor has a whopping 10 luxury double ensuite bedrooms with 1930's style décor, fine dining from the manor's master chef that includes delicacies from the surrounding area, a large cozy sitting room complete with fireplace and phonograph, and A GIANT BACKYARD FULL OF FREE ROAMING GIRAFFES WHICH YOU CAN HAND-FEED FROM YOUR WINDOW. Yes, that's right. It's a Disney movie in real life where you actually live amongst animals in the finest of accommodations.  If that doesn't bring out your inner spirit animal, I don't know what will.
TSALA TREETOP LODGES
http://tsala.hunterhotels.com/page-zone/accomdining/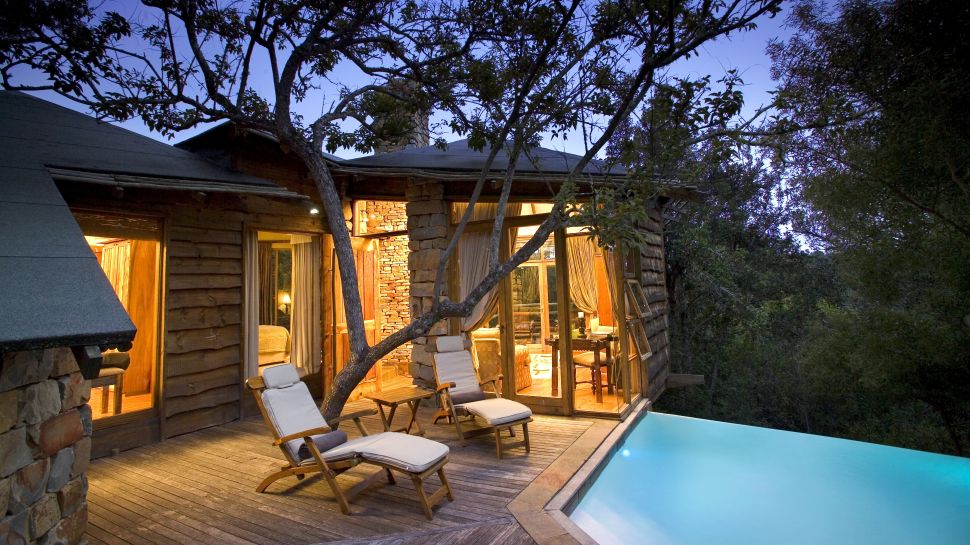 The magic of the tree house has long been a staple of youth. Maybe you built your own in the tiny tree in your backyard and watched it break as you climbed into it for the first time, or maybe you had no trees and built one with pillows inside. Regardless, there was always something intriguing about a house that could only be reached by climbing. Nestled amongst the treetops between Knysna and Plettenberg Bay in Western Cape, South Africa, Tsala Treetop Lodges provide the highest quality tree house accommodation. Boasting 10 "magical private suites" and 6 two-bedroomed villas all with the finest of furniture and appliances as well as their own infinity pools in the sky, Tsala offers an experience like no tree house you've been in before. Dining is in a large glass wall dining room or on a spacious outdoor deck. And don't worry about not being able to keep up with the Kardashians in any way, because there is complimentary Wi-fi, lounges with full stocked libraries and bars, underfloor heating and air conditioning, and something described as "pampering services" … on the top of a forest… in South Africa.
ATLANTIS: THE PALM
http://www.atlantisthepalm.com/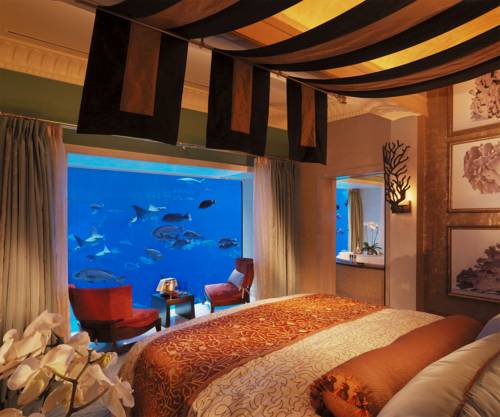 I'm not sure I ever imagined wanting to live underwater when I was younger but I had my fair share of underwater tea parties. I think living under a sea of marine life for a week is the logical next step. Over in Dubai, they are making this dream come true for lucky guests of Atlantis: The Palm  who have the pleasure of staying in their Poseidon and Neptune Suites. Both suites feature three stories and spectacular views from your bedroom and bathroom of Ambassador Lagoon, a marine paradise with over 65,000 animals carefully tended to by 200 marine specialists. I think it would probably rank high on the list of best bathrooms ever. You can also dine in the underwater restaurant, go tubing through a shark-infested lagoon (You are surrounded by glass on your ride, don't worry!), plummet down a Leap of Faith water slide from the Aztec-resembling temple, or even swim with a few playful new friends in Dolphin Bay and Sea Lion Point. To put this resort in perspective, I haven't even listed half of the nautical and luxury amenities.
ICEHOTEL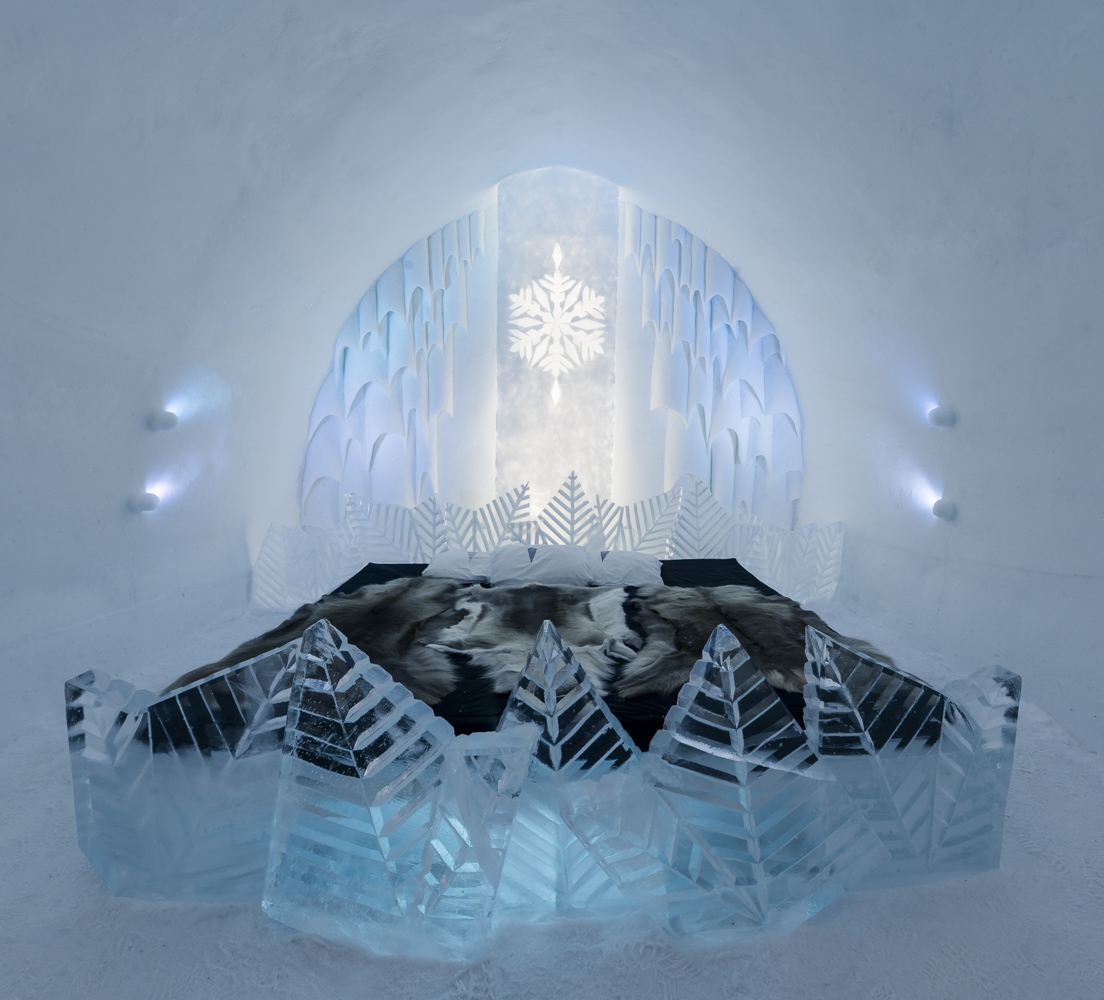 If you have lived around snow, you have probably tried to build your own ice cave or igloo at some point. Mine usually were incredibly dangerous and unstable and were too small for me to even go inside. ICEHOTEL, both accommodation and art, is located in the icy tundra of Jukkasjärvi, Sweden. The hotel is famous for being "the world's first and largest hotel built of snow and ice." Its beauty is unrivaled in the perfection of its "art" rooms as carved by masters from around the world. Possible activities include snowmobiling, ice sculpting, dog sledding, horseback tours, ice driving, learning about the local natives (the Sámi), and fantastic views of the effervescent Northern Lights. As long as you are comfortable in 20° temperatures, they you can have to most magical ice and snow filled adventure that put you as close to Santa as you can get.
CHALET TROIS COURONNES
http://www.ski-boutique.co.uk/top-20-chalets/chalet-trois-couronnes/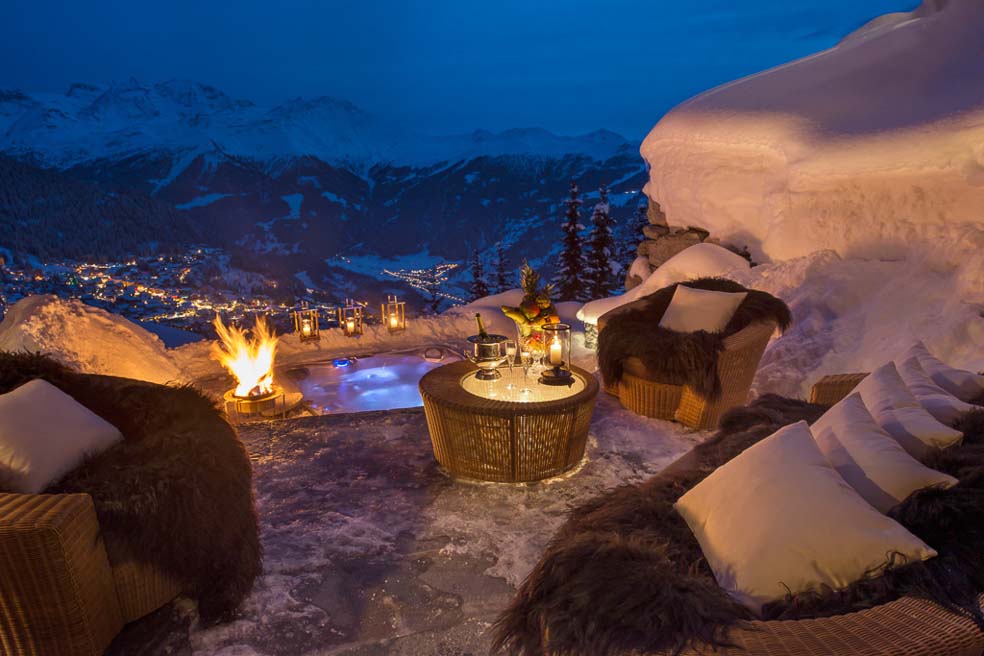 The log cabin: you have built them with blocks and probably have set foot in a normal one for a camping trip or even a visit. I have always loved the aesthetic and the romantic notion that accompanies the log cabin. In scouring the Internet's best of worldwide accommodation, I have found that the I-have-buckets-of-money-and-I-don't-know-what-to-do-with-it translation for log cabin is actually "chalet." Might I introduce you to Chalet Trois Couronnes. Up in the snowy mountains of Verbier, Switzerland, the chalet provides more than my tiny brain could imagine for a snowy camping trip: a massive indoor pool, an outdoor jacuzzi, a steam room, a sauna, a private cinema, an art gallery, parking for eight cars, integrated surround sound and video throughout the building, a personal assistant, chef and driver, and—in case you decide to make the mistake of leaving—close proximity to some of the finest skiing in Switzerland.
VELLASSARU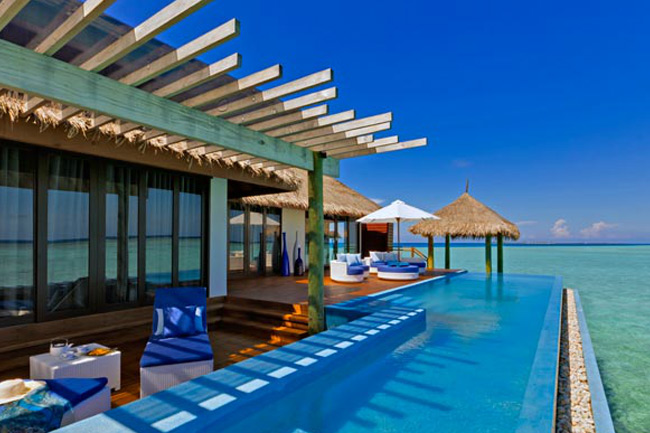 As a kid and as an adult, we all have been asked the question: "If you were stranded on an island and could only take one thing with you, what would it be?" My answer is that I would be stranded on Velassaru in the Maldives and I one bring one very lucky friend. A number of accommodation options await you on this private island, but none better than the "Water Suite". You can enjoy the finest, blissful solitude in the most hi-tech beach villa with expansive views, (another) infinity pool, an iPad (I don't know why), multiple showers, a bathtub, and full butler service. It is probably the most secluded and best beach vacation you'll have without ever leaving your housing.
TAJ PALACE MARRAKECH
http://www.tajhotels.com/Luxury/Grand-Palaces-And-Iconic-Hotels/Taj-Palace-Marrakech/Overview.html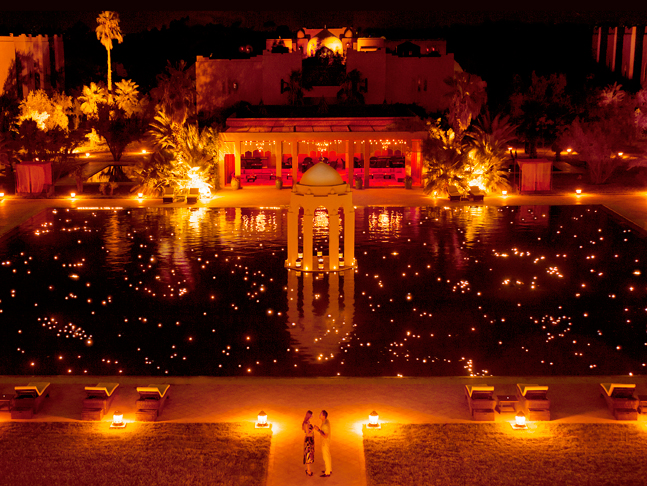 Castles are always on the list of dream homes for young girls, but I've decided to step it up another notch because I can. Morocco is home to some stunning architecture and design, and the Taj Palace Marrakech is no exception. Combining Moorish, Indian, Venetian design elements, the building itself is a masterpiece surrounded by 55 hectares (That's about 130 acres) of exquisite landscaping. What more could a girl want? How about the Royal Suite encompassing the entire top floor of the palace with three bedrooms with king beds, a massive terrace, more than one butler, turndown service, and the best views of the Atlas Mountains, the beautiful, expansive palace pool that is lit by tiny lights at night, or maybe the spa that spans across almost an acre of the property? If that is still not enough, try one of the palaces many bars, lounges and restaurants, including this sunset dining experience so romantic that it  includes the "picturesque Palmeraie landscape" and "seductive music." Ow, ow!
BAYAN TREE SEYCHELLES
http://www.banyantree.com/en/seychelles/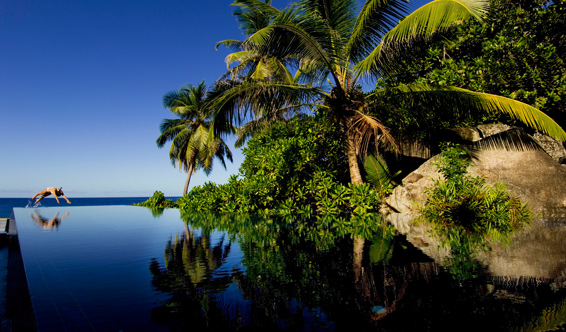 The bane of all parents' complex and thought out vacation plans is the hotel pool. A natural child attractor, the pool is nearly always a child's favorite part of any vacation. I was always a fan of any pool that included a water slide or any sort of waterfall. A pool built for dreamers, and apparently famous musicians and actors, finds its home at the Bayan Tree Seychelles in Mahe Island amidst the Indian Ocean. The infinity pool hangs over to look as though it travels right into the ocean. With the seclusion of the high-class resort, it is the pinnacle of sanctity and luxury and the exact opposite of all the pools you swam in as a kid. There are six private villas which offer more amenities than a regular house and most of which also contain their own private pool. There also seven luxury dining options, including the ultimate in room service and a poolside bar. You could expect nothing less from a property formerly owned by George Harrison of The Beatles and Peter Sellers of The Pink Panther film series.
AMANGIRI
http://www.amanresorts.com/amangiri/home.aspx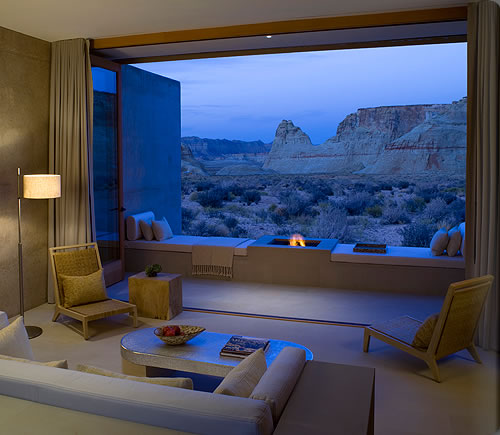 The old American trip out west is a childhood classic more found in 80s movies than in modern childhood. My family has made the trip on several occasions. It involves a lot of desert, and heat, and horseback riding, and heat, and rocks, and oh, did I mention HEAT? And then there is Amangiri. Translating to 'peaceful mountain,' Amangiri occupies 600 of desert in Canyon Point, Utah, close to the Arizona border. If you could see it from the sky, it would look quite out of place in its natural surroundings. Up close, it looks just as beautiful as the rocks and desert it is nestled in. In both its variety of private suites and four bedroom villas, Amangiri offers the ultimate in minimalism style luxury and comfort while connecting its guests directly with the stark and beautiful desert landscape. It boasts several indoor and outdoor lounges, a pool that wraps around the massive rock formation jutting into the center of the resort, a cellar and private dining area, and art gallery, a library, and a pavilion with panoramic views. The only thing that you'll still need from that childhood roadtrip is the sunscreen.
TCS EXPEDITIONS – AROUND THE WORLD WITH FOUR SEASONS
http://www.tcsworldtravel.com/expedition/around-the-world-with-four-seasons/2014/march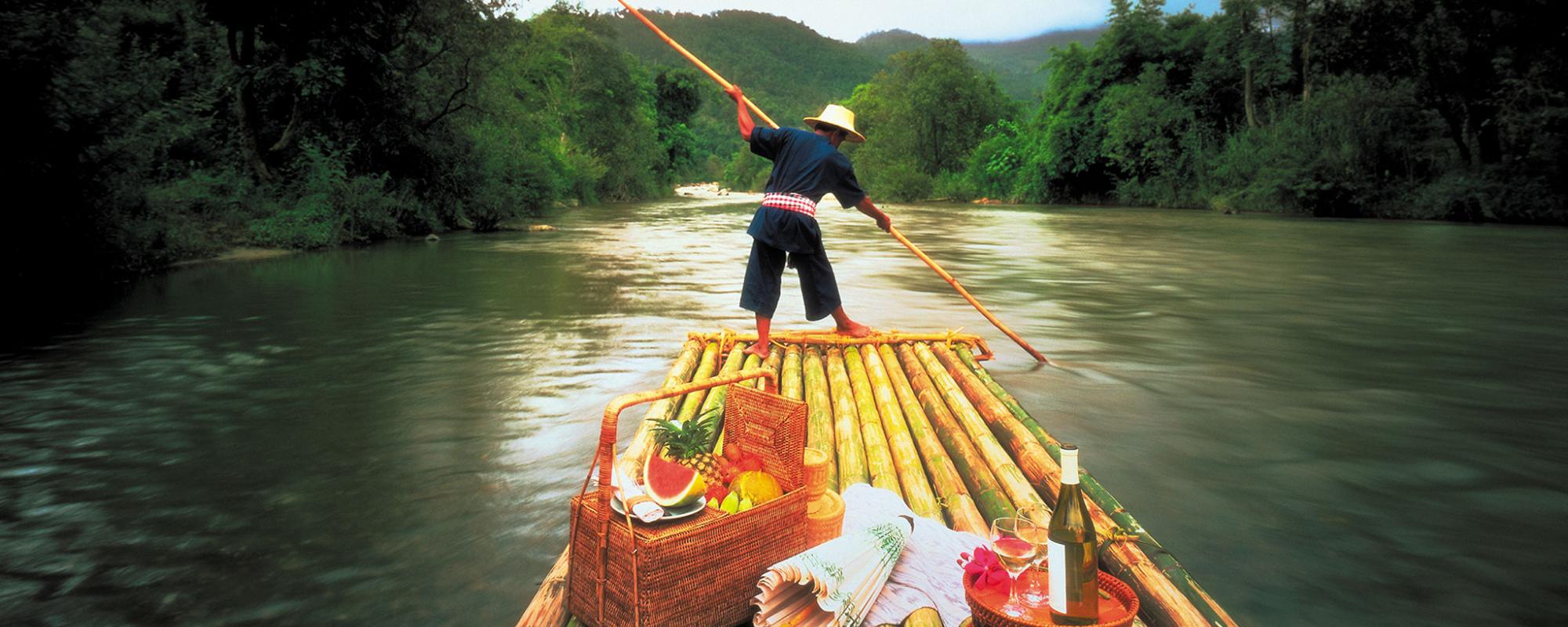 Sometimes, as a child, I would sit and imagine what it would be like to travel to, well, everywhere. In the spirit of the classic quote from 'Ellie" in Disney Pixar's classic UP, "Adventure is out there!" On a college budget, many have gone on the epic backpacking trip through Europe amongst hostels, the couches of friends, and sometimes even bus benches. Why not instead fly around the world in a private jet, staying only at Four Seasons' best resorts in cities all over the world? A mere 23 days later, with no expense spared, you will have reached Los Angeles, Kona, Hawaii, Bora Bora, French Polyneisa, Sydney, Australia, Bali, Indonesia, Chiang Mai or Chiang Rai, Thailand, Taj Mahal and Mumbai, India, Istanbul, Turkey and London. From watersports to food tasting to cultural dances, you will have tried it all and then some from a company who insists, "Traveling by private jet is the only way to go."
Now doesn't it feel like you've just gone on the best vacation of your life? The trick is to not look at the price tag. The Send Shana on any of these Vacations Fund is now and has always been accepting any and all extremely large donations.