From the constitution center, to the liberty bell, to the oldest residential street in the United States, Philadelphia has always been known for its abundance of American historical sites. For Philadelphia frequenters, however, there eventually comes a point where there seem to be no more major attractions to visit.
To that end, today we're on a quest to spend a day in Philly seeking out those bits of history off the beaten path. Not a Philadelphia native myself, I realize that I may have missed some of the major underground sites – if you notice your favorite historical site hasn't been mentioned, leave a comment below!
Washington Square
(Between Walnut and 6th St)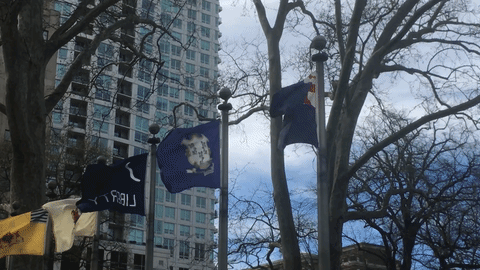 When I first stumbled upon this park in my research, I have to admit that at first, I almost scrolled right past it thinking it was Washington Square Park in New York. (Why are there so many places with the same name, anyways? There are 41 Springfield's in the U.S.)
Washington Square in Philadelphia is smaller and less crowded than its twin-by-name in New York, but is equally as pleasant. Filled with over 60 species of trees, the park feels secluded from the usual city chaos, with wide, smooth walkways taking you to its center. There lies a large, simple circular fountain, lined with benches. From here, you'll find an obviously featured path branching off, lined with flags and ending with a statue and a fire.
The flags lining this area, you'll notice, clearly don't represent different countries or modern U.S. states. What they do depict are the flags of colonies and groups significant during the time of the Revolutionary War, such as Fort Moultrie's "Liberty" Flag.
Arriving at the statue, you'll see that it's The Tomb of the Unknown Revolutionary War Soldier, underneath which lies a perpetually burning flame in their honor. Realizing this, the peaceful quiet of the area becomes eerie – beneath your feet, there are countless unmarked graves of people whose lives we have never and will never know anything about.
Created in 1682, the park was originally used for animals to graze and as a burial site (It seems we used to think of "parks" as a very, very different type of space).
It was only around 1815 that the park began to see recreational use with a tree-planting program and the implementation of paved public walkways.
A park of many names and accomplishments, in addition to its Revolutionary War significance, the area is also a hub for publishing companies. The oldest farm publication in American, The Farm Journal, was based on the square. To top off an already rich history, the park contains the fully-grown sprout of a Sycamore whose seeds had been brought to the moon and back on the Apollo 14 mission.
Little Pete's Diner
(219 S 17th St)

For our food destination, we're heading to a small diner in Center City which a sign bearing worn-out red letters: Little Pete's. Opened in 1978 by Pete Koutroubas, this diner is not special in the sense that it has particularly great food or a distinct appearance. No, those all involve your typical diner standards.
Upon entering, you'll find an unused cigarette dispenser to your right, a relic of a bygone era. Beyond that are chairs upholstered with green leather, wooden walls dotted with images of old Philadelphia, and metallic accents galore.
The food is affordable, and pretty decent overall, but just note that the restaurant is cash only. Some items, usually breakfast foods, are a super hit, while other dishes leave a bit to be desired. I ordered the "Little Pete's Special," a sandwich made with sliced beef, coleslaw, and Russian dressing on rye bread. It was a big sandwich for me, contrasted by the bag of vintage potato chips that was 60% air. It's all part of the aesthetic.
What makes Little Pete's significant is its long-standing history in Center City, which has never moved its location- a feat for a small, independent diner. For many native-Philadelphians, Little Pete's has become a natural, constant part of the city, with regular customers and one-time patrons being impacted by the community of this diner. This place is clearly connected to the lives of many, in significant ways.
An article by BillyPenn includes some such customers reminiscing about memories made at Little Pete's, from falling in love to feeling at home for the first time. But it's easy to see sadness lurking behind the heart-warming tales. What spurred the article to be written in the first place, and ultimately what included Little Pete's addition in this piece as well, is the fact that it will be closing permanently on August 31st of this year.
So, before it's too late, consider going to make your own memories at Little Pete's. Fall in love with it like so many have before.
Hidden City Philadelphia Tours
(Throughout the City)
During my first Philadelphia visit in the Restless Student's Travel Guide, the first thing I did was go on one of Hidden City Philadelphia's cheap, historical tours. Started in 2011, Hidden City now runs daily tours for those seeking to, as their mission statement states, "[pull] back the curtain on the city's most remarkable places and [connect] them to new people, functions, and resources." The city-wide explorations cover a vast range of topics, such as the geological history of Old City and Jazz in Center City.
Many of the events they host are also repeated in the future, meaning you don't have to fret if you miss one that interests you. The tour I went on is one such repeater, The Forgotten Chestnut Street Tour. While the cold morning had dampened my experience at the time, the tour guide clearly knew his stuff and how to convey that information to an audience.
To this day, when I walk down Chestnut Street with a friend, I often can't help but tell them about what I learned on that tour – especially when it comes to the single-windowed concrete block, or the boarded-up free library, which both showcase some drama in the restoration of Chestnut Street throughout history.
Usually lasting anywhere from an hour and a half to three hours, Hidden Philadelphia tours usually average at about $10-20, which grants you a look into specific, unique aspects of Philadelphia's history that you may have never known were there.
Some of Hidden Philadelphia's upcoming tours include "North Central Philly Lost & Found" which covers the social history of churches in North Central Philadelphia, "Forgotten North Broad Street" which includes the past and present state of every building, socially, culturally, and architecturally, and "Society Hill: The Great Deceiver," which covers the complex, contradictory socioeconomic history of Society Hill.
COSTS:
Transportation: $12
Food: $9.95
Little Pete's Diner – $9.95
Total Cost of the Day: $21.95