Hello, dear reader, we here at LocoMag are back from our not-so-brief hiatus, and that means another semester of abandoning all rationale to get on a bus and leave your state when you have  three tests next week.
Our theme this month, "Tabula Rasa," means blank slate, leading me to choose a city from some random internet article's "Best Cities to Start Over" list-
Baltimore!
I spent a long time researching today's itinerary, so buckle your seatbelts if the bus you're on actually has any.
6:48 A.M. – Waiting at the Train Station
I have willingly chosen to be functioning this early on a rainy Sunday for one main reason: I want to be on my way back from Baltimore before it gets dark, and winter sunsets are early and unforgiving. If only I could go to bed as early as the sun during these months.
The exact time listed above holds some great significance. It is the time that my train was to arrive. The very train that would safely transport me to Jefferson Station, from where I would then transfer to my Greyhound bus that was set to leave at 7:30 A.M.
Heart beating faster with each passing second, I stood completely still. I stared far into the distance down the track, as if I could pull the train toward me faster through sheer will and increasingly less mild panic.
7:40 A.M. – Arriving and Despairing at Jefferson Station
The bus had the audacity to leave without me. Goodbye, $60 ticket. Goodbye, my article. Goodbye, my sanity.
8:00 A.M. – Wherever My Feet Could Take Me
In the midst of my pity party, I start brainstorming. Okay, so Baltimore's a bust today. As much as I want to go home and do the piles of work that were accumulating with no regard for my time or well-being, the fact is that I'm already here. I pick a direction and walk in it.
At the beginning of this article, I mention how I spent a long time planning my itinerary for Baltimore. This process is true for each edition of this column. At least two hours of research goes into each location in the interest of finding the cheapest, most interesting places possible. By missing the bus, my plans efficiently and completely disappeared. My day, which had been carefully scheduled and color-coded, was now a blank slate.
As I walk through the streets of Chinatown, which is right next to Jefferson station, I do what I don't do so often during my other pieces: I looked around instead of just running around.
The day is a conventionally unpleasant one, with a frost-white sky where no clouds can be distinguished from one another. The brightness of it is not unlike when sunlight hits newly fallen snow- you can't really look at it for long without squinting your eyes. The air is cold and humid, making me feel clammy and like I need a shower, but at least the wind decided to stay out of today's weather forecast. The streets around me are crowded despite the threat of rain. A man in dark grey sweatpants with swoopy brown hair who pushes a metal cart, heading toward a nearby alley. A woman with large silver rings on her fingers nearly clips him with her slim, black car. A young girl with glasses and a bright pink coat stands alone, unmoving in front of a market.  A man in a turquoise hoodie with bulging pockets is bumped into by a little boy who attempts to pickpocket him. The man quickly covers his pocket, walking briskly away. I cross the street.
The remainder of my walk passed much in the same way, people watching, car watching, and building watching. To save us both time, here are the main points of what I saw:
Unattributed, untitled murals, the most intricate of which I took a picture of. With its bright colors, the painting is pretty recent, but it sits alone on the side of a building on a road with more gates and puddles than cars.
On Chinatown's main street lies a small shop overflowing with plants. If the shop has a name, I couldn't make it out on any particular sign in front of the store. It was one of the most crowded shops on the street, with people frequently coming in and out.
My walk started coming to a close when I exited Chinatown and reached City Hall. I had only been here once before, in late Spring, when the weather was much warmer. The building seemed to take on a different appearance entirely, with the top of it starting to fade into the sky. I imagined that I was in the UK, that is, until my I was completely jolted from my thoughts by my shoe landing directly in an unclassified substance. It was either ice cream or shaving cream. I am content with never knowing.
11:00 A.M. – Pennsylvania Academy of the Fine Arts
(118-128 N Broad St)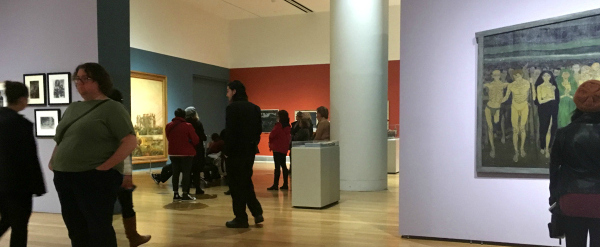 After clearing my shoe and my mind of the shaving cream incident, I continued my walk until I arrived at my only concrete event this entire trip. Having just suffered a day of what seemed like endless bad luck, I was given a small bit of solace: on Sundays during its current exhibition, admission to the museum is free! Perhaps there is still a reason for me to keep writing these articles, after all.
Upon first seeing this building, along with its name, I had no idea whether I could actually go in or not. The name itself reeks of academia, which to me is synonymous with "Do not enter unless you are one of us." I could not immediately grasp the idea that this place was both a museum and a university. It was a comical five minutes, waiting outside, trying to be inconspicuous about looking in the giant windows as I have an existential crisis.
Currently, the Academy is having an exhibit on World War I and American Art, which its website claims is the first of its kind. Each piece of art reacts to a certain aspect or time in the War, split up into a variety of different sections such as "Celebration and Mourning."
Despite this particular exhibit being just one floor, it was overflowing with pieces and information to the extent that it takes a solid two hours to adequately address it all. Following this, there is a second exhibit of student-works a floor below, which mainly revolved around social issues regarding race and gender. In this exhibit, there was also a guest book full of small doodles, well wishes, and jokes that visitors had made. A common theme was to draw something quickly and give it an absurdly high price, as all of the works in this lower level had price tags of that nature next to them.
2:00 P.M. – Tea Do
(132 N 10th St)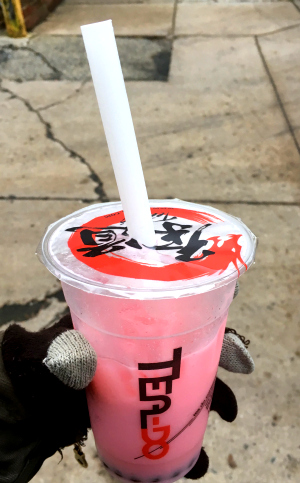 After the museum, I set off walking just as I had earlier. Only this time, I had the added benefits of being tired, sore, and hungry. The mist in the air began to condense into rain, and if you thought I would come prepared with an umbrella, then think again (But thank you for your faith in me).
I began walking back to Jefferson Station, but decided to take one last walk around Chinatown, feeling that I had not yet done enough today. To satiate the angry hunger beast within me, I stopped by what may have been the most crowded tea shop I have ever been in. Not even the original Twinings tea shop in London compared to the crowd at Tea Do. I took my place on the "line," or what might be better known as a mob, which reached the door. After five minutes of waiting, a large group came in and promptly cut the line far, far ahead of me. I tried to preoccupy my thoughts with sympathy for the four overwhelmingly busy baristas instead of frustration.
When I got to the counter, I ordered a small strawberry milk tea with tapioca pearls, otherwise known as boba or bubbles. I was given a receipt with a number to be called, and once I had my drink, I was out of there. Tea Do is not the place for anyone who dislikes tight spaces, crowds, or just people in general. However, even if you don't enjoy these things, it might still be worth it to go for the tea.
2:50 P.M. – Enroute to Jefferson Station
3:10 P.M. – Train Arrives at Station
3:38 P.M. – Train Arrives in Glenside, PA
4:00 P.M. – Back in Dorm Room
COSTS:
Transportation: $12
Food: $3.24
Events: $0
Pennsylvania Academy of Fine Arts
Taking a good old-fashioned walk around the city
Total Cost of the Day: $15.24 … +$60 spent on a useless bus tickets to Baltimore